By Ted Nickerson
Released in October 2020 by Land Over Landings (LOL), a document titled Research Paper 11 focuses on rebutting comments by local politicians regarding the potential for greenhouses and vertical farming on the federal Pickering Airport Lands.  The comments by local elected officials were made in the context of including agriculture as part of the overall development of the lands, including an airport.
In appearance, the paper seems to present an objective, researched assessment of the potential for Indoor Farming on the Pickering Airport Lands.
EXCEPT it is not what it appears to be.
Research Paper 11 has been prepared to support and promote Land Over Landing's North Pickering Farms vision as documented in their January 2018 report "A Future for the Lands: Economic Impact of Remaining Federal Lands if Returned to Permanent Agriculture".
In the scientific method, you establish a hypothesis, a theory, ask a question.  Then through research and observation, you reach a conclusion that supports or refutes the hypothesis/question.  Research Paper 11 seems to generally follow such a process.
EXCEPT the questions it asks are unrealistic to begin with.
Research Paper 11 asks, in the context of the Pickering Lands:
Can Indoor Farming…
Substitute for the 6,500 acres of outdoor farming on these lands?
Help meet the world's food security needs?
Help end world hunger?
Serve world markets?
Without having to do any research, the answer to all of the above questions is clearly NO!  And none of these goals will be achieved by the Land Over Landings North Pickering Farms vision either.
It is not the role of greenhouse or vertical farming to be the replacement for field farming.  Greenhouse cultivation is targeted to specific high value food production and customer market niches.  It is ludicrous to consider, as the Research Paper implies and quickly dismisses, the idea of growing low value food staples (cereals, root vegetables) indoors.  There will never be an equivalent of 6,500 acres of indoor farming on these lands.  Greenhouses on the Pickering lands won't address world food insecurity or serve world markets.  The target markets for greenhouse production will be local and regional consumers that value high quality, high value outputs.
So, the Research Paper starts with a weak indoor farming premise, then, through research, confirms that greenhouse or vertical farming on the lands on that scale is unrealistic.  The paper concludes that preserving the lands for traditional permanent agriculture, aka the North Pickering Farms vision, is the only option.  Development of the lands for other uses than farming is not mentioned.
This Research Paper was not an honest evaluation of the opportunity for indoor farming on the Pickering Airport Lands.   Greenhouses and vertical farming could be viable on the lands provided they deliver high value produce and are supported by proper market and financial analyses.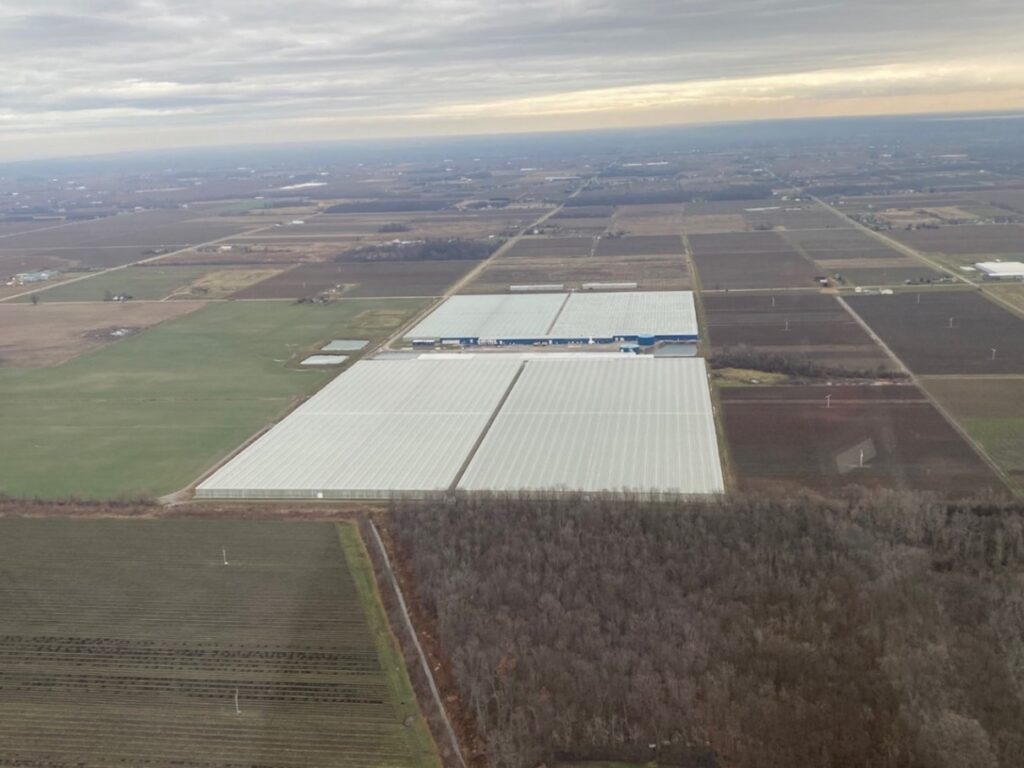 Here are successful examples.
In Dubai, Emirates Flight Catering and Crop One Holdings are constructing one of the largest vertical farms in the world (12,000 square metres) which will provide greens for 225,000 meals per day.
AeroFarms in the USA operates vertical farms ranging from 3,000 to 14,000 square metres.
GoodLeaf Farms in Guelph operates a 4,000 square metres high-tech vertical farm producing 360 thousand kilograms per year in all seasons.
As reported, these farms use 95+% less water than field farming, have a faster growing cycle (less than half the time), and use no fertilizers or pesticides thus eliminating agricultural runoff into waterways.  AeroFarms says their farms use less than 1% of the land required by conventional growing to achieve the same harvest volume, a 390 times greater productivity per square foot annually vs. traditional field farming. It also does something traditional farming could never do, deliver high value local produce in the dead of winter for a local market.
All of these examples emphasize the use of technology to improve yields and achieve consistent quality.  Each creates high quality jobs.  Strong partnerships between the producers and the end user corporations are important.
Makes one wonder how much of LOL's North Pickering Farms vision could be replaced by a single 1-hectare indoor farm.
Global vertical farming is expected to grow by over 20 percent annually through 2027.  There is a place for indoor farming on the Pickering lands.
There are a few more specific and significant statements made in Research Paper 11 that need to be addressed.
Energy Usage:  As the Research Paper notes, indoor farming uses more energy in the form of electrical power and natural gas.  However, this higher energy usage has to be factored into the financial viability of the facilities and ultimately, the type and price of the products grown for customers.  Based on indoor farming's annual global growth though, it appears there are local consumers that value consistent product quality and all-season availability.
Not Emissions Free: Neither is outdoor faming.  Outdoor farming equipment is powered by fossil fuels, and fertilizers are used to improve crop yields. Indoor farming uses more energy, but it also has low water usage and is fertilizer/pesticide-free. Again, growing locally produced food in the winter instead of importing it from farms thousands of miles away can reduce transportation emissions.
Create 2100+ jobs with an Economic Impact of $230 million/year:  The paper states that indoor farming is not a good source of long-term jobs for low-skilled, low-income workers. Instead, indoor farming requires fewer highly educated, highly specialized employees.
This is not a bad thing.  Higher skilled, higher paying jobs are better than creating lots of low paying, low skilled jobs.
The 2100 jobs and $230 million figures are consistent with Table 6.1 Annual Economic Impacts of the Lands in Permanent Agriculture of the January 2018 report mentioned previously (2,052 jobs, $221.2 million in that table).  What's missing from the Research Paper is a description of what those jobs really are.  The number 2,052 represents the total potential jobs created regionally and provincially.
Only 450 are direct farming-related jobs created on the Pickering lands.
Another 1009 local jobs are attributed to seasonal Agri-tourism i.e., jobs created to serve the people coming to the site to buy the production of the lands, and
Another 593 jobs that would be induced elsewhere in the province due to agricultural activities on the Pickering lands.
Table 6.1 identifies that the total salary and wages for those 2,052 jobs as $69 million.  That equates to an average annual income of $33,600 per job.  Per Statistics Canada, that places these workers in the bottom third decile (3rd) of incomes in Ontario for individuals in economic families for 2018, the same year as that report.  The household poverty line income for Toronto in 2018 was $48,143.
Again, referring to Statistics Canada data, should the Pickering Airport Lands be developed as an employment district at the job density and incomes in the Toronto Census Metropolitan Area, there could be as many as 50,000 direct jobs with an average annual income of about $59,000, placing these jobs in the seventh income decile (7th).
Which job do you think most people would aspire to?
As added context, the combined Pickering Innovation Corridor, Pickering Airport lands, and the proposed Veraine community developments will create 50 times more jobs (direct not induced) than the LOL Farms concept (direct and induced).
Creating thousands more, higher paying jobs is a better way to address the problems of housing affordability, food insecurity and income inequality.
Greenbelt Council Support:  The Research Paper states that a March 2020 report released by the province's Greenbelt Council says the Pickering lands could be an opportunity for expanded fruit and vegetable production and 20-to-30-year leases should be considered.  These statements are not surprising when you look at the chronology of events surrounding Land Over Landings' push for permanent agriculture on these lands.
In 2017, Land Over Landings engaged Econometrics Research Inc. and JRG Consulting Group to prepare a report that would support the preservation of agriculture and Land Over Landings' North Pickering Farms vision.
In January 2018, the report "A Future for the Lands: Economic Impact of Remaining Pickering Federal Lands if Returned to Permanent Agriculture" was released. The report fulfilled the objectives of Land Over Landings.
In March 2018, Mr. David Crombie was appointed to the province's Greenbelt Council as Chair (part time).
In April 2018, Mr. Crombie chaired the Land Over Landings public event for the report, and strongly supported that report's recommendations.
At some point, the Greenbelt Council engaged JRG Consulting Group to prepare a report on expanding fruit and vegetable agriculture in Southern Ontario.
In March 2020, the Greenbelt Council released the report "Plant the Seeds: Opportunities to Grow Southern Ontario's Fruit & Vegetable Sector" by JRG Consulting Group.
So, two reports by the same consultant, referring to the same lands, both supported by Mr. Crombie, with the same recommendations. There are no surprises here, just more self-rewarding verbiage in support of a lobby group's stated goals.
The Greenbelt Council report's recommendation sprouted from the seeds planted by Land Over Landings years before.
A Waiting List of Eager Farmers:  In response to a Freedom of Information Request (FOI) and the direct question by Mark Brooks, the federal FOI contact stated that there is no waiting list of individuals seeking to lease Pickering Airport Lands.
Climate Change:  The GTAH is one of the faster growing areas in North America.  By 2041, the population is forecasted to reach 10 million and employment to be almost 5 million jobs.  That growth drives development (residential, commercial, industrial) but does not preclude building in a responsible, environmentally sustainable manner.
For instance, a Pickering airport could be carbon neutral from day one.  Most of the commercial airports in Canada, including Toronto Pearson, were actively pursuing carbon neutral accreditation prior to the COVID19 pandemic.  The global aviation business, through the CORSIA program, is committed to carbon neutral growth starting in 2020, in addition to the massive 50% Well-to-Wake GHG reductions from 2005 levels by 2050.
The Airport Carbon Accreditation and CORSIA programs are supported by the United Nations IPCC.  Net carbon zero is possible for Canadian aviation by 2050. Pickering Airport can commit to that goal too.
In conclusion, the Land Over Landings Research Paper 11 was written primarily to support the spurious call for permanent agriculture of these federal lands.  It was never intended to be a fair economic evaluation of the potential for indoor farming here.
Full development of the retained Pickering Airport Lands will create more jobs (industrial, commercial, airport) and deliver the greatest economic prosperity to the City of Pickering, Durham Region, and the broader Toronto region.  Indoor farming can be part of that future.
Full economic development will provide the greatest benefits to the most people.  Better jobs lead to improved housing affordability, lower food insecurity and less income inequality.
References:
INDOOR FARMING AND NORTH PICKERING | Land Over Landings