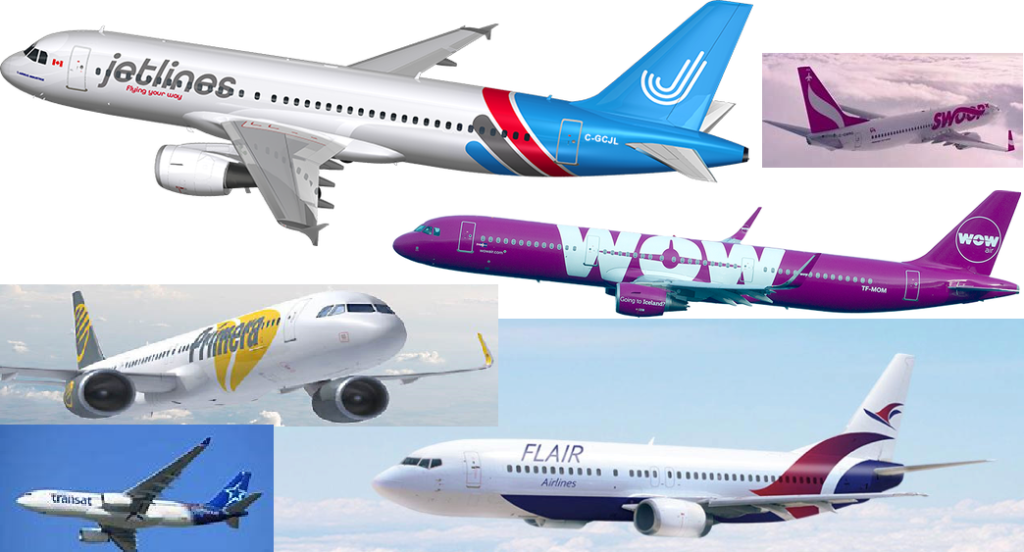 Written by Mark Brooks and Phil Lightstone
The new Pickering airport will be a state-of-the-art 21st century transportation hub, but which airlines are expected to call it home? The answer can be found in the new airport's large passenger catchment area, the expected low operating costs for aircraft using it and the operational constraints at Lester B. Pearson International Airport and Toronto Billy Bishop City Centre Airport.
Operating costs are not just landing and ramp fees, but also includes the time and fuel spent flying into and out of an airport. At Pearson, the key chokepoint is its limited runway slots with congestion costing time and fuel both in the air and on the ground. Just moving around Pearson's 40 km of taxiways before take off and after landing consumes time and fuel, sometimes up to 30 minutes or more. When idling on the ground, a jet engine still burns 50% or more of its inflight cruise fuel consumption.  As an example, a General Electric CF6 engine installed on an Airbus burns 2800 liters an hour of jet fuel in cruise. Just taxiing for 30 minutes adds thousands of dollars in fuel, maintenance and crew costs.
Gate restriction times at Pearson can also compound the economics of a low cost carrier and make it harder to provide a positive gate-to-gate passenger experience. With gate restrictions in effect, an aircraft which had recently landed could sit on the ground waiting for a gate, with engines running.  This adds to the overall cost of a flight, but can also be a safety concern.  In 2017, a WestJet aircraft loaded with passengers, waiting for a gate at Pearson, with engines running, was struck by a SunWing aircraft being pushed back from its gate.  The resulting fire could have had a disasterous impact.  Fortunately, there was no loss of life, only a few passengers were hurt will exiting the emergency exits.
Unlike Pearson, Pickering airport will be free of congestion and have a smaller more efficient layout allowing a gate to departure time of only a few minutes. Pickering airport will start with at least one 9,000 ft runway, a basic terminal and will boast quick turn around times and fees in line with other regional airports.  This will enable airline operating costs to be half of Pearson. With no congestion and no long taxi times, turn around times and their related operation costs are expected to be low.  This will naturally attract airlines with a low cost business model such as Jetlines, Flare and Air Transat. Pickering airport will be the perfect home for air carriers focusing on providing low pricing as a competitive advantage. As a side benefit, the new airport will relieve the congestion at Pearson airport and enable Pearson's night flight restrictions to remain in place thus reducing noise concerns for residents under Pearson's flight paths.
With Toronto's aviation demand set to double over the next 20 years, Pickering airport will break the Pearson monopoly by providing accessible aviation capacity able to support jet aircraft of all types and sizes.  One look at some of this year's new low-cost airline startups – NewLeaf Travel Co. Inc., Canada Jetlines Ltd. and Enerjet Ltd, show that the entrepreneurs are ready and waiting in the wings to make Pickering airport fly.
What remains to be seen is how, Air Canada, WestJet and Porter Airlines will react to the new Pickering airport and the resulting efficient competition. Mr. Bob Deluce, CEO of Porter Airlines, has not made a public statement on Pickering airport, but he does not seem concerned about new competition. He is arguing that Porter is focused on different markets now, the "time-sensitive business traveller" and he expects demand to remain strong.  In contrast, in a meeting in 2013 with then Transportation Minister Lisa Raitt, both Air Canada, and WestJet opposed the construction of Pickering airport. But once built, it is hard to see how even the duopoly of Air Canada and WestJet (with its new low cost carrier Swoop) could resist the competitive advantage of Pickering airport.
Today 2.3 million people live within a 30km radius of Pickering airport giving it one of the largest passenger catchment areas in Canada. With a shorter drive time, lower prices and minimal ramp wait times, it is expected to be easy for a discount airline to draw passengers away from congested Pearson airport. For a passenger, Pickering's clean basic services, shorter drive or taxi times, cheaper parking and lower ticket costs will be an instant draw.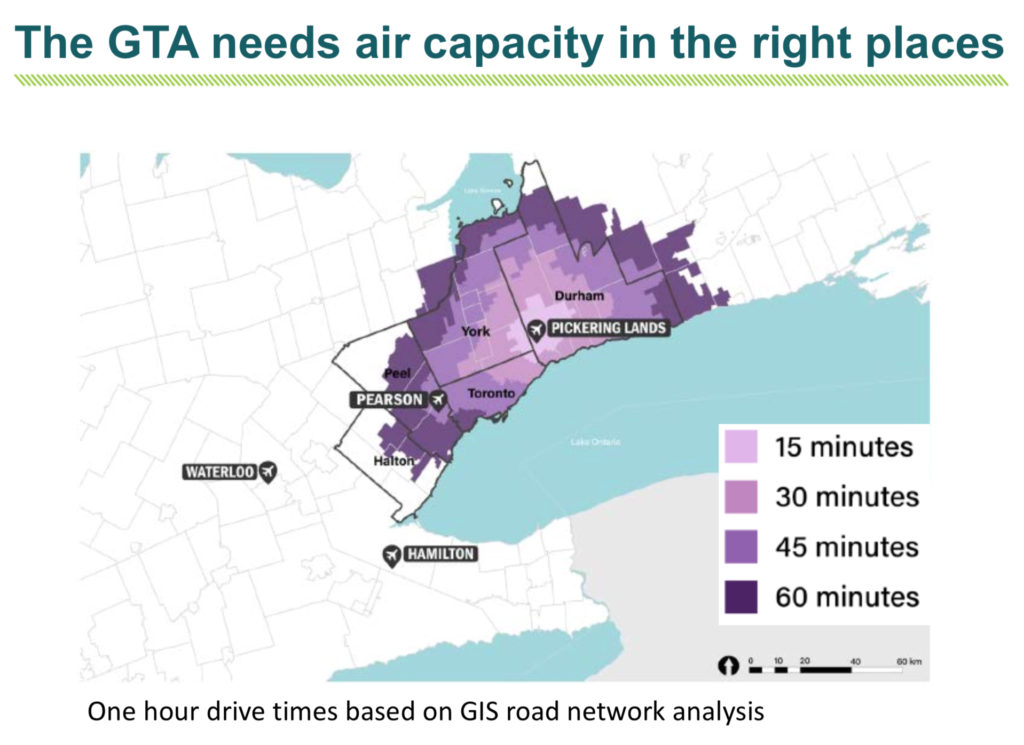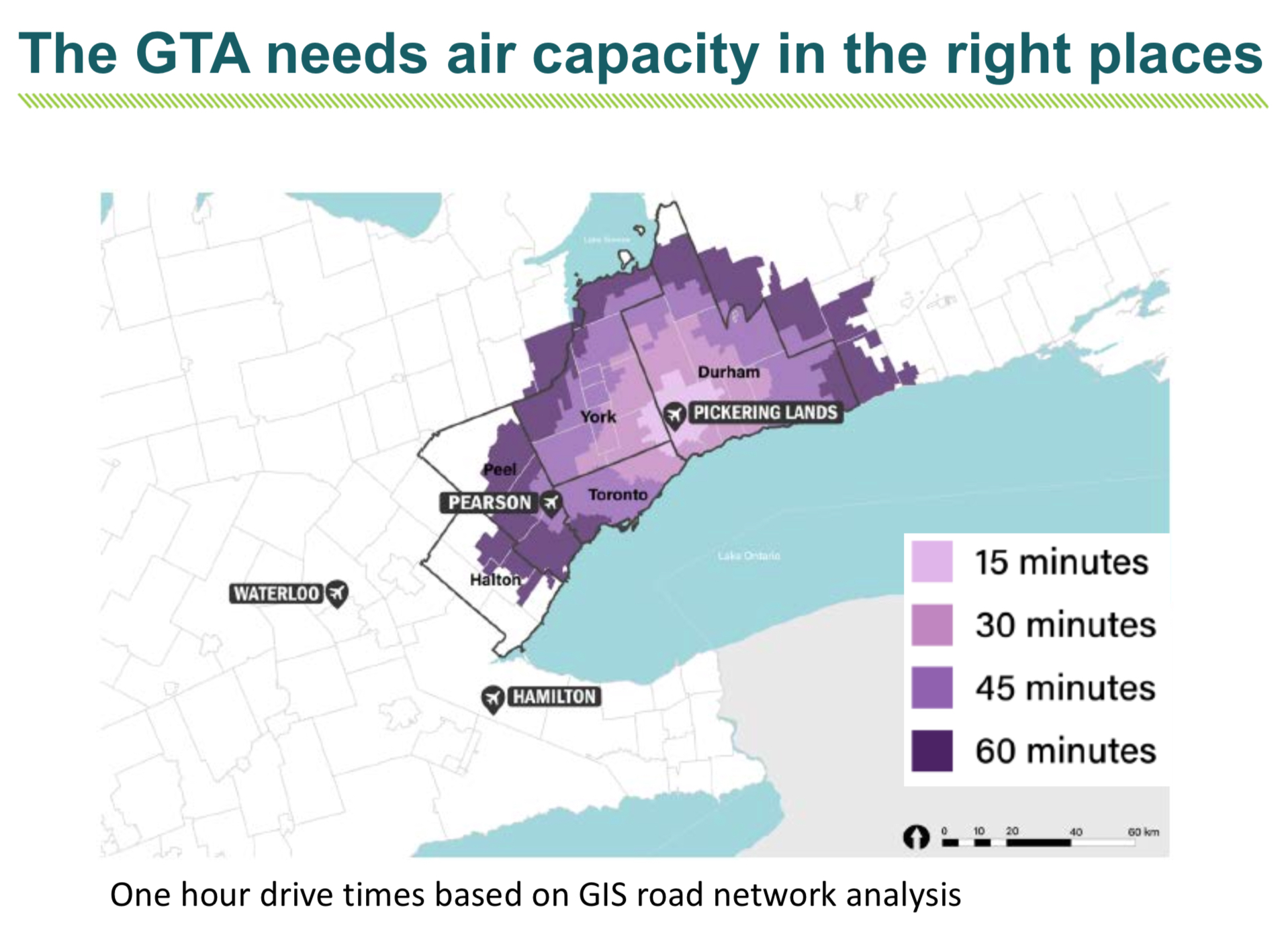 Reduced operating costs and fuel saving will be a big part of how Pickering airport will be designed to be naturally greener, using forward-thinking, best-practice principles. Its goal will be to become a world class competitive transport hub, becoming Eastern Toronto's green gateway to the world. 
An airport is a large, complex project with significant construction time and tasks. Detailed work on the airport, airspace and flight path design, biodiversity and conservation need to start immediately. Even then it is expected to take up to 15 years before the first jet flies, given plenty of opportunity for those profiting from the status quo to lobby against it.
Bill C49, Canadas new federal bill on modernization transportation, provides an ominous warning to the travel public on what to expect before Pickering opens. The bill includes an illuminating section on airline passenger rights. It is illuminating because, as first pointed out by CBC's market place, it appears to include a rollback of passenger rights, not strengthening them.
Today all major Canadian airlines are required to offer compensation, alternatives and protection to passengers after waiting 90 minutes on the ramp. Passengers have a right to refreshments and the opportunity to get off the plane if it's safe and practical to do so.  However, the new bill doubles the length of time to three hours. Without sufficient accessible aviation capacity and regulatory penalties, passenger rights and the quality of their air travel experience will be bullied.  In fact, it is not only passengers who are impacted. 
With Pearson Airport expected to exceed maximum capacity before Pickering opens, many of the smaller carriers without Air Canadas clout will struggle to survive with long delays created by even a minor weather problem. For them, Pickering airport can not come too soon. The only question is, do our politicians have the backbone to stand up to the multi-billion-dollar business interests dead set against a greener, more efficient and competitive future?