How will a new Pickering airport fit in with the existing major jet airports in the Toronto area? A look  at the size of the population they serve and logistics provides the answer. A jet airport is typically an airport with at least one 5000ft or longer runway, with support for an instrument landing system (ILS), and is able to take a medium jet aircraft. The geography of the Toronto's airports is pictured below. As Billy Bishops runway has room to be expanded to meet the criteria, it is included, even though it is currently 1000 ft too short and has a jet ban in place. General Aviation ( GA) airports such as Oshawa or Buttonville do not meet the criteria and can not take anything larger than an executive jet, so are not included.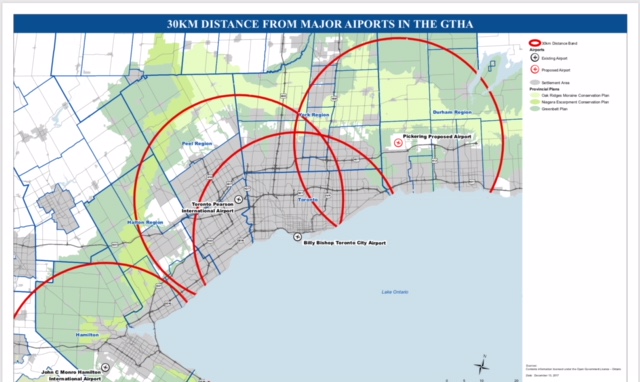 Both population and employment numbers highlight the dramatic need for, and the competitive advantages of Pickering airport. Within 30 km of the new Pickering airport (a typical passenger catchment area) is an existing population 3 times that surrounding Hamilton airport or Waterloo airport. More than double the population surrounding Ottawa international.  These communities have their own jet airports, why not Pickering?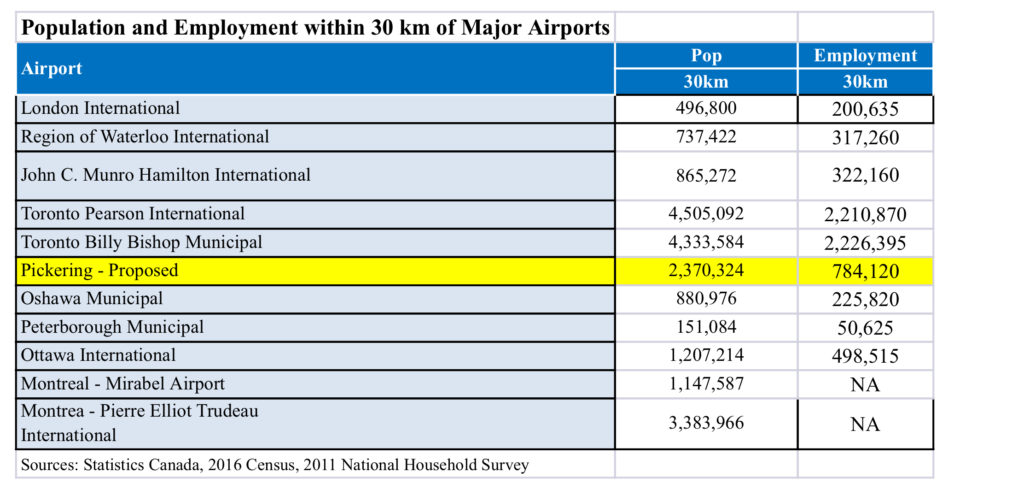 In addition to a large passenger catchment area, easily accessible by a 400 series highway, Pickering airport has both rail and pipeline right of ways. This makes it the only airport in the Toronto region logistically on par with Pearson and Buffalo international airports for easy access to large quantities of cheap fuel.    Sitting on thousands of acres, surrounded by park and farmland, with flightpaths over mostly rural areas, Pickering airport is an ideal jet reliever airport for the Toronto region.