On March 3 2023, a Canadian built Dash 8 Q300, nicknamed Lightning McClean, took off from Grant County International airport (MWH) in Washington state, powered by hydrogen.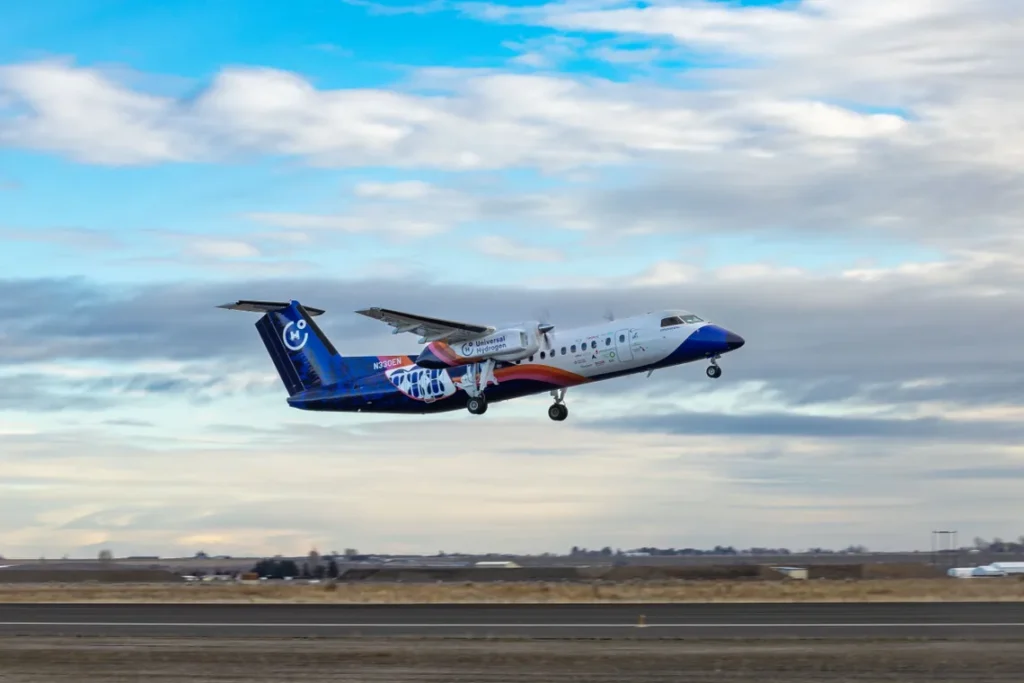 Aircraft use a lot of fuel and as such can provide economies of scale if that fuel is produced and liquefied locally near an airport. If this fuel is zero emissions, such as green hydrogen, Sustainable Aviation Fuel (SAF), or bio diesel, an airport can become a net zero energy hub decarbonizing their own operations. This fuel can then help decarbonize emissions from local industry and businesses in the region. Locally created fuels eliminate the need for transportation, thereby increasing safety and efficiency.
ICAO (International Civil Aviation Organization) plans to transition the aviation industry to net zero emissions fuels by 2050.  This will transform all aircraft flying today into net zero emissions machines.  One of the net zero fuels ICAO has identified is hydrogen. Hydrogen is the most abundant element in the universe. If hydrogen is extracted from water with electrolysis powered by renewable electricity, the resulting gas is a net zero emissions fuel. That hydrogen gas can then be used to power a fuel cell to create electricity. It can also be combined with carbon captured from the air to create a jet-A replacement fuel called Sustainable Aviation Fuel (SAF).
The new Pickering airport is now a key part of Durham regions development plans. When Pickering airport opens in 2029 there will be multiple types of hydrogen, and hybrid electric aircraft in the air. But without fuel these new aircraft will not be flying far. Pickering airport is in a perfect location to solve this issue by enabling a transition to new hydrogen fuel technology in both air and ground transportation.
The new airport and a 30 million sq foot industrial park are planned for 9600 acres of land owned by the federal government in North Pickering. While both are expected to be developed with private investment, with a little bit of vision it could become something much more. A net zero manufacturing and energy hub for both air and ground transportation.
If a green hydrogen fuel farm is included in the new airports development, it could do much more than just fuel new hydrogen powered aircraft. The new airport could create green hydrogen on demand using Ontario's renewable dominated electricity grid. It could become a hydrogen fuel hub supporting the net zero fuel transition of road, rail and air transportation. Enabling other modes of transportation in Durham Region to switch to hydrogen fuel. High quality net zero emissions hydrogen fuel can be created locally on demand.  No more thousand-mile-long pipelines, no more carbon emissions.
 A necessary requirement for the mass adoption of hydrogen is the construction of suitable infrastructure capable of filling aircraft and automobile tanks at high pressure, 700 bars, with high-purity H2. Per the hydrogen fuel quality specifications for polymer electrolyte fuel cells (published by the U.S. Department of Energy) impurities such as carbon monoxide (CO) and sulphur compounds, are very tight, down to 200 ppb or even less. Another challenge is that hydrogen is itself a greenhouse gas that if accidentally released will quickly combine with other elements to create carbon chains.
The airport and industrial park have merits on their own that will enable carbon footprint reduction by reducing commute times and relieving congestion at Pearson airport. But the new logistics hub built around the airport could go one step further by providing green hydrogen fuel to promote sustainable road, rail and air transportation across the region. Hydrogen-based aviation and road transportation can be a competitive advantage attracting passengers and companies looking to reduce emissions.
Hydrogen produced and stored at the airport can be used to create SAF, a Jet A replacement fuel created from hydrogen and carbon captured out of the atmosphere. Together these fuels can enable a "green mobility" transformation across the region.  This involves development of a local supply chain for green hydrogen, including "on demand" production using  Ontario's electrical grid already on a path to net zero.  The fuelling of aircraft and airport ground support can be the first step but the hydrogen requires new infrastructure built to exacting standards on or near the airport.
Cooperation with private industry, provincial and federal governments could have the airport breaking ground in 2026, opening in 2029 . It can be an important step toward fossil-free flying in Southern Ontario.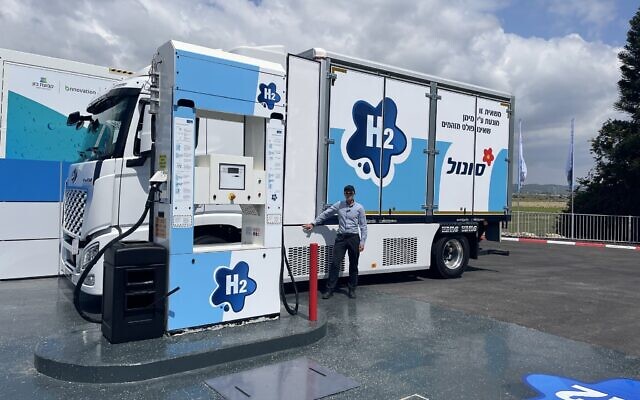 As futuristic as it sounds, Pickering will not be the first airport to do so. Net zero fuels like SAF and hydrogen are a centerpiece of ICAO/IATA net zero emissions plan for aviation. In Germany, Hamburg airport is already planning just such a H2 [Hydrogen] hub with its Baltic partners. Their plan is to enable the potential for climate-neutral flights on short-haul routes using hydrogen. Hydrogen that may in part be shipped in from Canada thanks to an August 2022 deal signed by German Chancellor Scholz and Canadian Prime Minister Trudeau.  The agreement, to construct a green hydrogen plant in Newfoundland/Labrador, will enable the export of Canadian green hydrogen to Germany.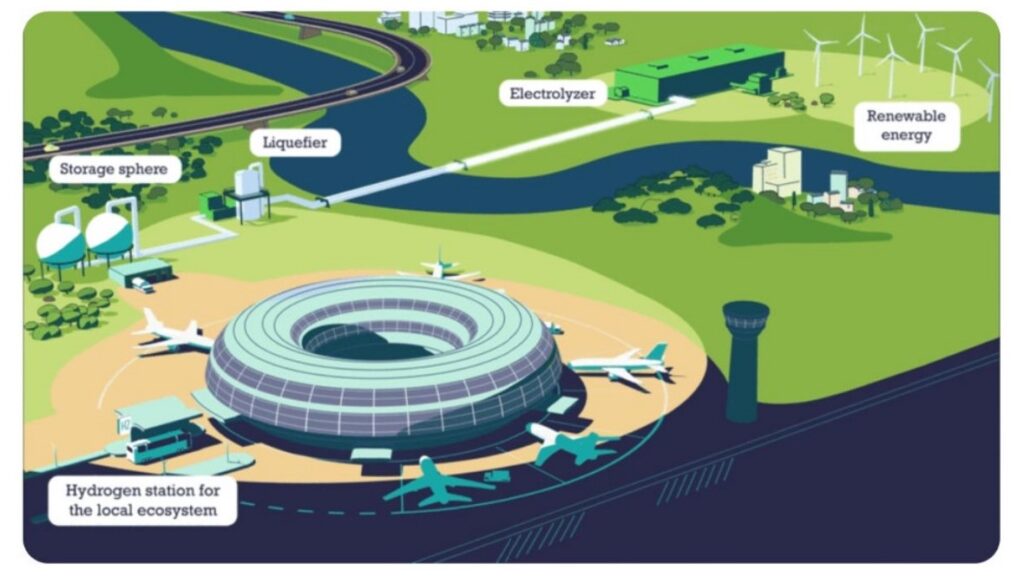 Jan Eike Hardegen, Hamburg Airport's head of environment stated:
"From our partners' point of view, regional air transport with smaller, future hydrogen-powered aircraft is particularly suitable… Hydrogen is the propulsion of the future, especially for smaller regional air transport aircraft, such as turboprops with 20-30 seats."  These regional airlines will be among Pickering Airports first users.
Pickering airport has all the prerequisites for airport infrastructure geared toward hydrogen-powered aircraft. It will have an industrial park right next to the airport. This will provide the industrial space needed to meet the safety standards for hydrogen fuel production and access to a direct high voltage substation electric grid. Its proximity of production to consumption will enable the creation of fuel on demand. These opportunities do not exist at the same level at Toronto Pearson international Airport or at the downtown Toronto Billy Bishop Airport or, in fact, at many other airports in Canada.
It is time for our federal government to encourage a switch to net zero fuels, including hydrogen, by giving the green light to Pickering Airport. It is time for aviation to embrace a net zero future by building an airport of the future today!
References:
Flying Green, On the Frontiers of New Aviation by Christopher De Bellaigue 
Airports of Tomorrow: From Passenger to Energy Hubs – ACI World Insights
ENVReport2022_Art55.pdf (icao.int)
Israel opens first hydrogen fuel station – Green Prophet
Canada and Germany Sign Agreement to Enhance German Energy Security with Clean Canadian Hydrogen   – Canada.ca
Hydrogen Aviation Lab – Hamburg Airport (hamburg-airport.de)
Universal Hydrogen: The Dash 8 With An Electric Engine (simpleflying.com)
ENVReport2019_pg124-130.pdf (icao.int)
Research project for the use of hydrogen in aviation starts in Hamburg | Energize
What is hydrogen, and can it really become a climate change solution? (theconversation.com)