Airline Considerations for New Routes
In Part 1 we discussed Pickering Airports advantage of location, location and location! We explored how the new airport will complement existing operations at Pearson airport including providing a home for commuter airlines. In addition to commuter airlines (19 seat or less), discount airlines such as Swoop and Flair are prime candidates for new routes out of Pickering. These low cost carrier operations are discussed in a separate post here:
Why low-cost carriers and their passengers will love Pickering's new airport. – Friends of Pickering Airport
With the FAA forecasting a doubling in revenue passenger miles by 2043 (3.2 % year over year growth), new airport capacity is needed everywhere. Toronto Pearson, already nearing capacity, risks becoming an unmanageable choke point in the network of North American airports. What are some of the factors and considerations that airlines of all types will take into account when deciding to start a new route out of the new Pickering Airport?
Forecasting Demand
Forecasting demand starts with understanding how many passengers at both ends want to travel to the other end of the route. The size of a passenger catchment area around each airport, the natural demand for travel and if it is a traveler's final or hub destination are all important.  Business trade relationships, seasonal travel habits, vacation, cultural and historical connections between two cities are all factors in estimating demand.
How many passengers will travel on a flight? Who are they, where do they want to go and what time of day are they looking to travel? Most airlines use aviation market intelligence tools to parse and analyze all available data. This data comes from within the airline itself, as well as industry-wide passenger data that identifies trends in traffic. Essential data points to consider are ticket price, route volumes, seat types and connections.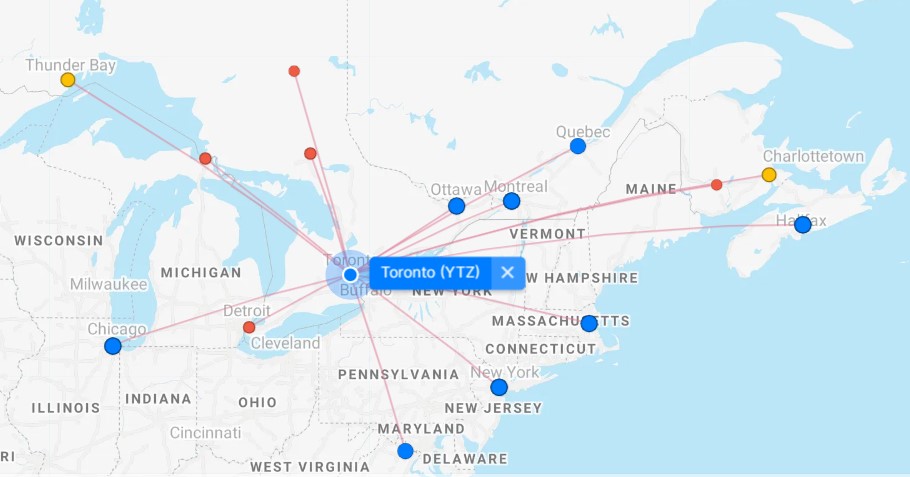 For instance, there are many flights a day between Toronto Pearson and Atlanta Georgia. According to the GTAA peak travel times (rush hour) at Pearson is early morning and late afternoon into the early evening. During these time fares go at a premium and flight are often sold out.
For a passenger, a new route between Pickering and Atlanta at those times would have multiple attractions including a lower cost, easier local access and better on time performance.
Alternatively, an airline could set up a "thin route" offering a direct flight to a destination that otherwise would require one or more connections at a hub airport like Atlanta. For reference see the table of destinations in part 1 of this post.
Pickering Airport Passenger Routes Part 1 – Friends of Pickering Airport
Crew and Aircraft availability
An airline will need to source an appropriately sized aircraft and trained crew for a new route.  Not an easy task given the long wait times for new aircraft delivery and a worldwide pilot shortage. The pilot shortage is expected to intensify over the next decade and be a primary restriction on aviation growth.
Canada's pilot shortage made worse by surge of 'discount airlines', aviation experts say | Globalnews.ca
A major airline with a large fleet can reassign an aircraft for a new 1- or 2-hour domestic flight if it is more profitable than its current route. Doing so for a 15-hour international flight is another matter. An aircraft assigned to a regional route can fly four to five flights a day to different cities.  Pickering's initial routes are expected to be short haul regional and trans-border routes. But unlike tiny Billy Bishop airport, Pickering will have the runway length and room for supporting services to enable larger jet aircraft.  This will enable longer routes to be added as opportunity and the brutal laws of profit dictates.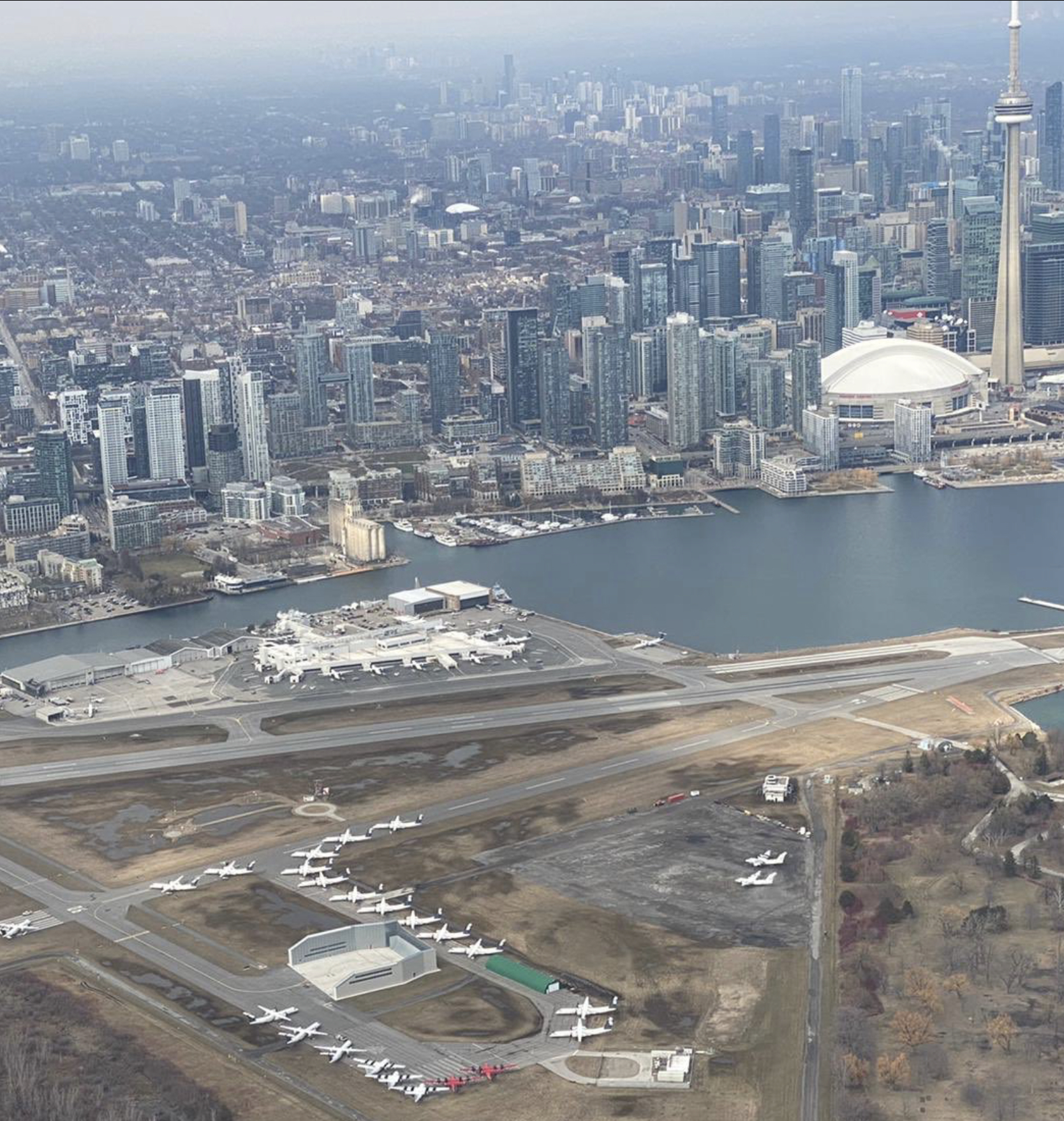 Not all aircraft can fly on a particular route due to range, weight and balance. Plus, operational efficiency and performance are considerations. Once an average traffic flow per day is determined an airline can select the type of aircraft most suitable. Does it have such an aircraft and crew already available operating on a less profitable route? Can it grow its fleet accordingly? Is it the type of route it wants to operate?
 Route Efficiency
A route may not initially attract an airline that is focused on high volume, equipped with large narrowbody and even larger widebody aircraft. A route might only attract LLC's (Low-Cost Carriers).  Over time, as Pearson nears capacity by the end of this decade, routes from new airlines and old are expected to shift to Pickering if they can. But in Canada there are dozens of regional airlines that make small thin routes their focus. As discussed in part 1, Pickering is expected to host routes now being serviced by smaller aircraft (703/704 commuter airlines) now being squeezed out of Pearson airport due to operating costs, gate and slot constraints.
These regional airlines use smaller aircraft operating "thin routes" between Canadas larger urban regions and smaller cities. These airlines should not be confused with regional airlines owned by larger airlines that exist to feed the larger carrier's hubs. So don't expect Air Canada Rouge to land anytime soon in Pickering as it exists to feed the Pearson hub.  Very few of Canadas small regional Airlines want to tolerate the high cost and unreliability caused by delays when operating out of congested Pearson Airport. One example is an airline called PASCAN that calls itself "The Peoples Regional Airline". Other examples include Nolinor, Northern Air, Starlink Aviation and Sunwest.
These smaller airlines are on the forefront of the adoption of new highly efficient electric and hybrid electric aircraft such as the ES-30, a 30-seat regional airliner from Heart Aerospace. PASCAN was the first Canadian airline to order this new aircraft followed several months later by Air Canada.  Pickering airports lower cost and reduced congestion will enable these new smaller specialized aircraft to have comparable unit economics to larger turbo prop aircraft operated out of Pearson. This topic is discussed in detail here.
e-Regional airlines and Pickering Airport – Friends of Pickering Airport
Connectivity at a Hub
The job of an airlines route network planning team is to ensure that enough of the travelers in an airport's catchment area will want to use a scheduled flight to get to a destination of their choice on their airline profitably. This often means connecting to other flights at an airline's hub airport. These flights must be timed to allow passengers to connect to another flight which will eventually bring them to their final destination with minimal delay. Long delays caused by congestion at peak periods at Pearson often defeat this goal.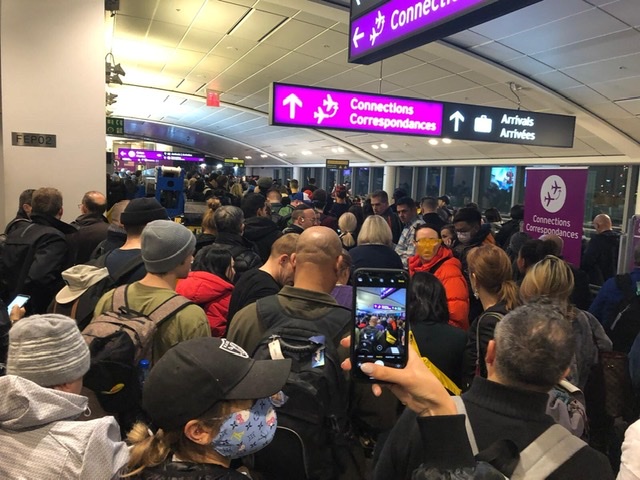 Pickering airport will be a more reliable feeder airport for new routes than Pearson for hubs like Atlanta and Chicago. Pickering can also feed other Canadian hubs, such as Calgary, Vancouver and Montreal.  This is easier said than done as getting take-off and landing slots to match between two congested hub airports can be very difficult.
 Pickering Airport will not initially have slot restrictions on departure and arrival times making it easier to create profitable connections to congested hub airports.
Most airlines have one or more hubs where they operate most of their flights. For Air Canada this is Terminal 1 at Pearson Airport and Montreal Trudeau airport.  Due to its investment at Terminal 1, Air Canada has been lobbying over the years against building Pickering airport and/or extending the runway at Toronto Billy Bishop.
A number of US hub airports are within easy reach of a trans-border feeder flight from Pickering.  American Airlines hubs include Chicago O'Hare, Philadelphia, New York (JFK-Kennedy and LGA-LaGuardia).   Deltas Airlines hubs include Atlanta, Boston, the New York airports and Detroit. United Airlines hubs include O'Hare, Newark and Washington Dulles.
Low-cost carriers such as Jet Blue and Flair use the term "Focus Cities" utilizing a point-to-point network to compete with legacy carriers. The same is true for Southwest Airlines. This is an "anti-establishment" answer to the hub and spoke system. Pickering airport plays well in this environment as well with low operating costs, wide open landing slots and access to millions of potential passengers.
Today, some slot times at Pearson and a similarly congested airport like Atlanta are often difficult to match, dictating longer layovers and miss matched connections.  To a traveler, a flight scheduled at a time of the day where there is no possibility of reasonable connections to other cities are of lower value than ones with tighter connections. At hub airports, airlines need to time inbound and outbound flight connections for maximum value. Today this is an increasingly difficult task with the delays at Pearson caused by congestion.  Some flights have to be timed optimally for local traffic while other flights are timed for passenger hub connectivity.
Pickering's lower congestion enables more predictable reliability and profitability on a route that depends on peak time of the day travel. No one in the Eastern Toronto region is going to get up at 5 am, drive for hours to Pearson to get a flight to Atlanta with a 3-hour layover if they can avoid it. Instead, they will sleep in and then take a flight out of Pickering with a one-hour layover before boarding the same connecting flight.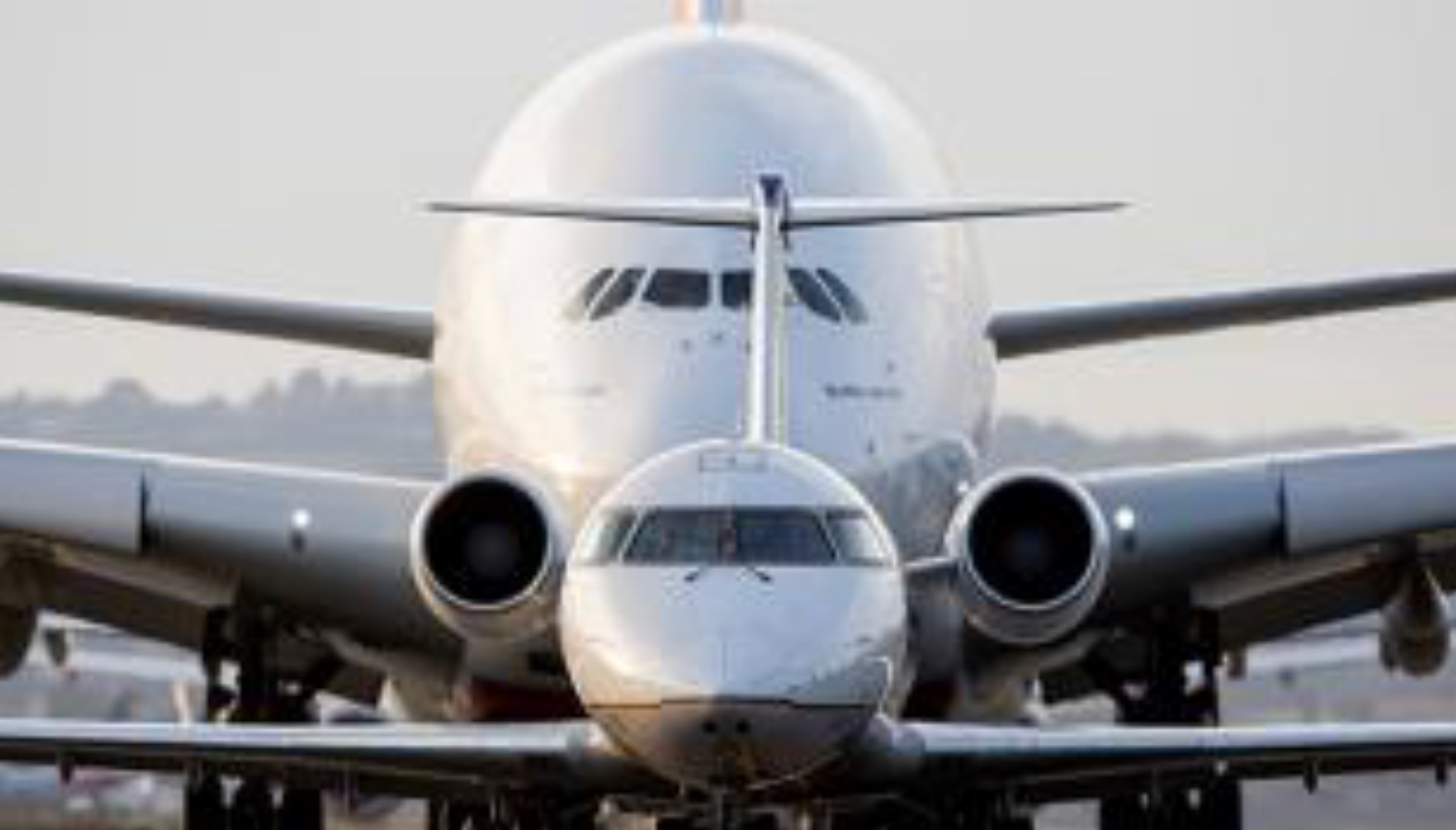 Beating the competition
There are hundreds of airlines of all sizes across the world. It is expected that opening a new route, if it is not already flown by another air carrier, will soon attract the attention of competitors.  Larger airlines will focus on feeder flights into their hubs. Starting a new route out of the new Pickering airport will be an advantage for any airline but by the brutal rules of capitalism, competition will follow. Any new route must be part of an overall business strategy to beat competitors.  While Air Canada will not wish to split its operations out of Pearson, other Canadian and foreign air carriers will see opportunity and Air Canada will have to react.
For smaller airlines, flying from Pickering to a smaller city that is currently not directly serviced by an airline's competition can be a profitable choice. This can include operating many short flights a day that rely on regional traffic.  New highly efficient single isle jets (like the Airbus 220) can enable profitable longer point to point routes. Both are ways a smaller airline can carve out an advantage over a larger competitor.  Larger LLCs will also be following this approach.
Pickering Airport is expected to be open by 2029 as a utility and specialty passenger airport. Passenger routes will be added as warranted by airlines that will find it advantageous. But which airlines and which routes will decide to call the new airport home?  Do not expect any announcements until closer to Pickering airports opening day. No self-respecting airline CEO will tip his hand to a competitor until he is ready to start selling tickets.
Related Posts:
Pickering Airport Passenger Routes Part 1 – Friends of Pickering Airport
e-Regional airlines and Pickering Airport – Friends of Pickering Airport
Why low cost carriers and their passengers will love Pickering's new airport. – Friends of Pickering Airport
References:
oronto Pearson Airport Is The Busiest On These Days & Here's When – Narcity
FlightConnections – All flights worldwide on a map!
PASCAN | The people's regional airline
Which U.S. Cities Are Major Hubs and Why it Matters (airfarewatchdog.com)
Canada's pilot shortage made worse by surge of 'discount airlines', aviation experts say | Globalnews.ca