Written by Ted Nickerson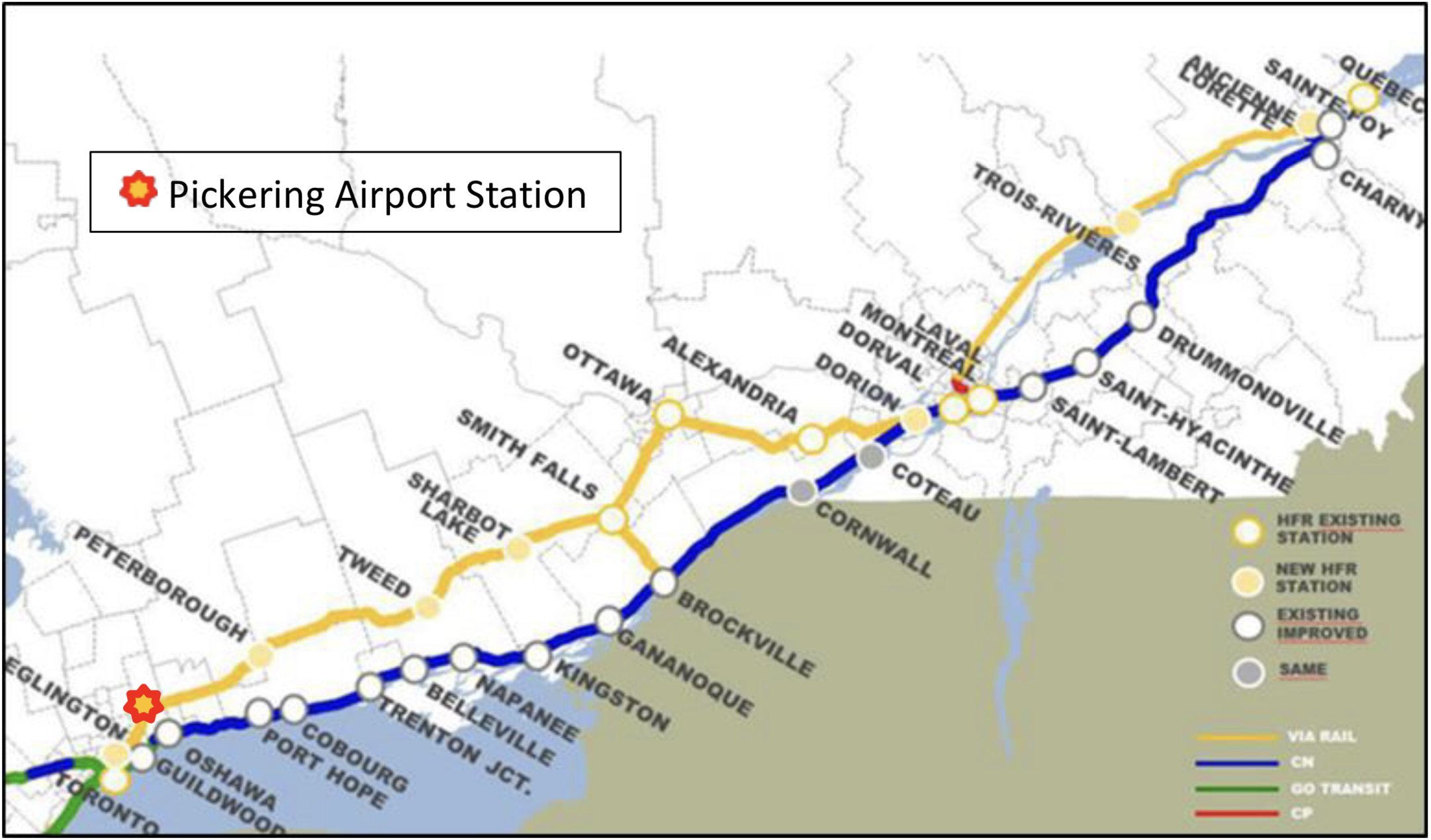 Sorry Folks, the Via Rail project for Toronto-Ottawa-Montreal-Quebec City High Frequency Rail passenger service does not mean Pickering Airport is not needed nor can it be delayed.
As a supporter of Pickering Airport, I can honestly say that I am a supporter of the Via Rail HFR project too.  The most populous corridor in Canada needs fast, efficient passenger rail service as one important element of the total transit network.
Via Rail's project would see annual passenger numbers on this corridor increase from 4.1 million in 2018 to 9.9 million in 2030.  Via Rail has recently received $71 million, to be spent over the next two years, to finalize the detailed business case and to complete the environmental assessment.
However, based on social media comments, some people think the Via Rail HFR project will eliminate the need for Pickering airport.  They think airline passengers (current and all future growth) travelling between Toronto and Ottawa, Montreal and Quebec City could travel on the new HFR service, freeing up capacity at Toronto's airports.
Is this wishful thinking by the airport opponents or is there anything that would support this position?
First, we need to understand how many people travel directly by air between Toronto and these three cities? Essentially, what is the scale of the opportunity for air travellers to become rail passengers?  As is standard practice, airlines regard this data as confidential information.
We have determined that an estimated 6.4 million people travelled by air between Toronto and Ottawa, Montreal and Quebec City in 2017 though.  This is how we got this value.
There are 232 daily direct flights between Toronto and these cities.     Source: expedia.ca.
The aircraft flown are Airbus A319/320 and Bombardier Q400 and vary by airline and route.  Source: Air Canada, West Jet and Porter Airlines websites.
There are an average 141 seats on the A319/320 and 74 on the Q400: Source: Porter website, SeatGuru.
An airport is typically designed to operate 310 days per year.

The aircraft passenger load factor is about 80 percent.
Using the GTAA's master plan forecast of 3.1 percent annual growth means theoretically there might be an additional 5 million air passengers travelling between Toronto and Ottawa-Montreal-Quebec City by 2036.
Will the number of air passengers between Toronto and these three cities cease to grow if this Via Rail Corridor HFR enters service?  
This would require Air Canada, West Jet, and Porter to forego the revenue and profits associated with the forecast 5 million air passenger growth between these cities.  That's not going to happen.
Will some current air passengers use this Via Rail Corridor HFR service?
Probably some will but the number is certainly captured in Via Rail's forecast of the more than doubling of weekly ridership once HFR is fully implemented on this new corridor.
Will the Via Rail Corridor HFR service mean Pickering airport is not required?
No, from several perspectives.  Pickering airport, practically or optimistically, could not enter service before 2028-2030.  By then, Via Rail would have achieved its program goal of 9.9 million rail passengers, and Toronto Pearson and Toronto Centre Billy Bishop airports would have captured most of the projected air passenger growth between Toronto and Ottawa, Montreal and Quebec City.
Toronto region airports have been growing by over 2.5 million passengers per year for the last five years. So, a hypothetical 5 million air passengers switching to HFR rail amounts to less than a two-year delay in Pickering Airport entering service.  The reality is that the estimated 5 million air passenger growth is not going to switch to HFR rail service in any significant way and therefore Via Rail's new HFR service isn't a basis to delay Pickering Airport.
The opponents' premise also ignores that people want to travel to many more places (domestic, transborder and international) than these four cities. The Via Rail HFRservice, or any rail service, isn't an option for these travellers.
The Toronto region commercial aviation network will reach capacity by 2036 at the latest, even sooner if the 10-year air passenger growth rate continues.  Pickering airport must be in place well before network capacity is reached, and to address commercial air passenger demands beyond that.
Pickering airport and this Via Rail Corridor HFR project offer significant synergies.
A direct transit link between Pickering airport and downtown Toronto will become essential. The Via Rail HFR service on the CP line will be in service before Pickering airport is.  A Pickering airport station will be required.
The Via Rail Corridor HFR project, as part of its business plan, needs to reduce its financial risk and hopefully be able to eliminate the need for federal subsidies.  The direct transit link between a Pickering airport station and downtown Toronto could generate about 1.2 million rail passengers annually that are not in the current Via Rail plan.
In conclusion, both the Via Rail HFR project and Pickering airport are required.  They help each other. Build them both, starting now.
Ted Nickerson is an engineer, a friend of "Friends of Pickering Airport", and a supporter of the economic development of the Pickering lands.