By Mark Brooks
In October, 2020, the Member of Parliament for Pickering-Uxbridge, Jennifer O'Connell, sponsored an E-Petition in the House of Commons calling on the federal government to cancel a new airport being planned in North Pickering. It called for the existing leases on a billion-dollar government land parcel to be extended for decades to a privileged few. It even promoted an incorrect interpretation of a recent government report. Despite three months of active promotion and virtue signaling, Petition E-2907 gathered only 1,535 signatures across Canada.
What does the Petitions promotion and failure to gather more support mean?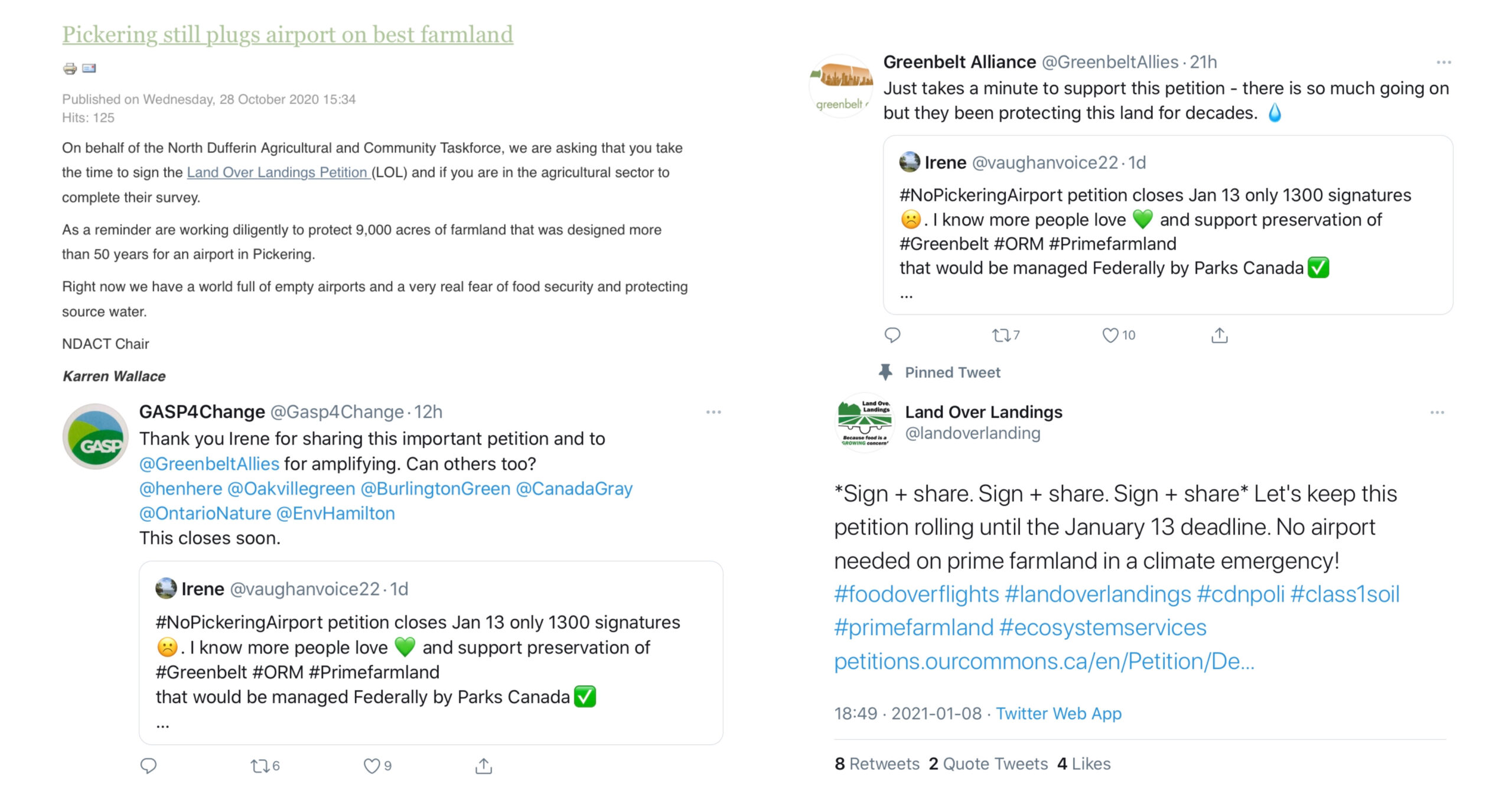 Had it been successful, the petition would have been a detriment to the existing development plans for the region of Durham. It called for the transfer of the land set aside for the airport from Transport Canada to Parks Canada and the extension of the existing land leases for decades. Given Toronto's hot real-estate market, this would be a windfall for the handful of commercial farms, businesses and individuals now lucky enough to be leasing this land at far below commercial market rates. Canceling the airport would also remove the aviation zoning regulations restricting the development of nearby privately owned land.
The Petition was reported on by Durham Radio, promoted by Land Over Landing (a local anti-airport lobby group) ,pushed by the Green Belt alliance and NDACT (Northern Dufferin Agricultural and Community Taskforce) among others, on social media. Yet despite three months of promotion and virtue signaling, by the closing date of Jan 13 2021, it had only gathered a mere 1,535 signatures from across the country. That is only one fifth of 1% of just the 700,000 residents that live in Durham Region. For comparison, a pro-aviation petition, E-3057 to save airline service into Sydney Nova Scotia, received 7,000 signatures in just three weeks in a community of 27,000.
Previous less formal online polls and petitions to stop Pickering Airport had logged many times more signatures, So what happened? Three factors appear to be at play.
First, the petition signing process was reasonably secure.
Unlike other online petitions or polls about the airport, this one was a House of Commons petition. To sign, you needed to be a resident of Canada, provide your postal code and confirm your signature by email.  This makes it hard to sign multiple times.   It can still be done by entering multiple names and alternative email addresses but there are legal consequences. This is a marked contrast to other online systems, where it's possible to vote multiple times a minute with no need to provide a name or even be in Canada. Other polls and petitions about the airport allowed a "social justice warrior" living in Europe or the far east to have the same say as a 100 local residents just by clicking a mouse button 100 times. With just a bit of technical knowledge you can even spoof your geographic location to make it look like the votes came from Ontario.
Second, local support for the airport is strong.
In the last few years support for building the new airport has been growing. The mayor of Pickering made it an election issue in 2018 and won by a landslide. The Chair of Durham region and five out of six local mayors and councils support building the new airport. The airport is expected to create tens of thousands of jobs, billions in economic activity and reduce noise/health issues around other older airports, including one in nearby Oshawa, that would otherwise need to be expanded.
Third, local citizens have become cynical about the motives and misinformation being pushed by those opposed to the airport.
Reasons to be cynical around the real goals of the petition are not hard to find. For example the key leadership of the Land Over Landings lobby group are also lease holders on the airport lands, and would benefit from a lease extension if the airport is cancelled.  Some real estate developers could gain a financial wind fall if the airport is cancelled. Even if the land set aside for the airport is not released for housing, cancelling the airport would remove the development restrictions and the extra costs they create on adjacent land.   The PASZR ( Pickering Airport Site Zoning Regulations ) restricts the height and type of development within several kilometers of the airport, even on land that is privately owned.
The money at stake is significant. Recently, as part of a levy agreement, developers sank an extra $70 million into supersizing water and sewer infrastructure in a Seaton housing project to support a future airport. (see: They Have Crossed the Line! – Friends of Pickering Airport )
Another red flag was that the petition was factually inaccurate. The text of the petition misrepresents the contents of a recent multi-million dollar government study, the ASA ( Aviation Sector Analysis) report.  The ASA suggest that the airport will be needed and goes further by providing a viable 100+ page business case with a suggestion to break ground on a utility airport to open by 2029. Passenger capacity would then be added as needed. This is the opposite of what the petition claims was the findings of the report. The Petition appears to echo an error filled statement on march 5, 2020 from the MP herself. Some of the errors in the petition are discussed in " Is an MP authorized E-Petition promoting Misinformation to reward supporters? "
The failure of the petition to gather support raises serious questions that warrant investigation. The petition was initiated by Beverley Dowling, a lawyer from Whitby. Her profile lists her employer as a firm that has offices in Pickering (real-estate law?). Did she initiate the petition in support of her own beliefs or at the request of a client? The Petition has been referred to as a "land Over Landings" Petition by NDACT and others, what is Ms. Dowling's relationship with this lobby group? What relationship exists between the real estate developers that could have benefited, Beverly Dowling and or Land Over Landings?
The Petition was sponsored by Pickering-Uxbridge MP Jennifer O'Connell, who has received significant donations in the past from land developers as well as support from businesses and individuals currently leasing the land set aside for the airport.  Is this why she sponsored it? Is this why she has refused to meet with us and other pro-airport supporters for years? What is the real reason she refuses to support a new airport that will bring economic prosperity, enhanced safety, health and lifestyle benefits to her community?  See:  Who is funding Anti-Airport Politics in Pickering?
If the petition had gathered more support, would it have been part of a bigger plan? A Freedom Of Information Request showed that the MP had not communicated this plan to, or coordinated with, Parks Canada in any way. Any attempt to implement the petition will create a nasty surprise for Parks Canada.
The President and CEO of Parks Canada, Ron Hallman had this to say about the issue of transferring the lands to other interests:
"Please note that Parks Canada is not involved in any such discussions or negotiations relating to the future use of these lands and remains focused on completing the establishment of and protecting the natural cultural and agricultural heritage of nearby Rouge National Urban Park … Inquiries relating to the Pickering lands may be directed to Transport Canada the federal department with authority over these lands."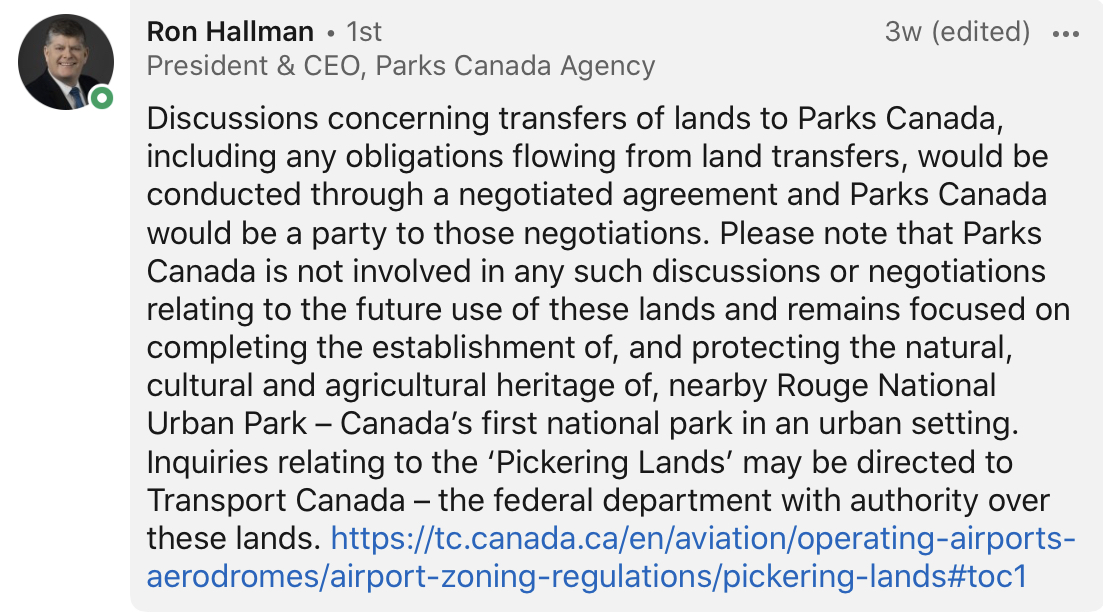 What happens next? Despite the small number of signatures, will the petition be used during a moment of weakness or distraction as an excuse to lease away a billion dollars in publicly owned land? Will it be used to lobby for the removal or modification of the PASZR restrictions and the reduction of development levies?
This is a petition that repeats misinformation and enables lobbyist to hide behind virtue signaling.  It has no place being presented to the House of Commons or to be used to alter the path of local development that has been carefully planned for decades. Whatever happens, the voters of Pickering-Uxbridge are beginning to understand that their elected MPs agenda may not be their agenda, nor in their best interests. Whoever she thinks she is representing, the petition shows that it is not the voters of her riding.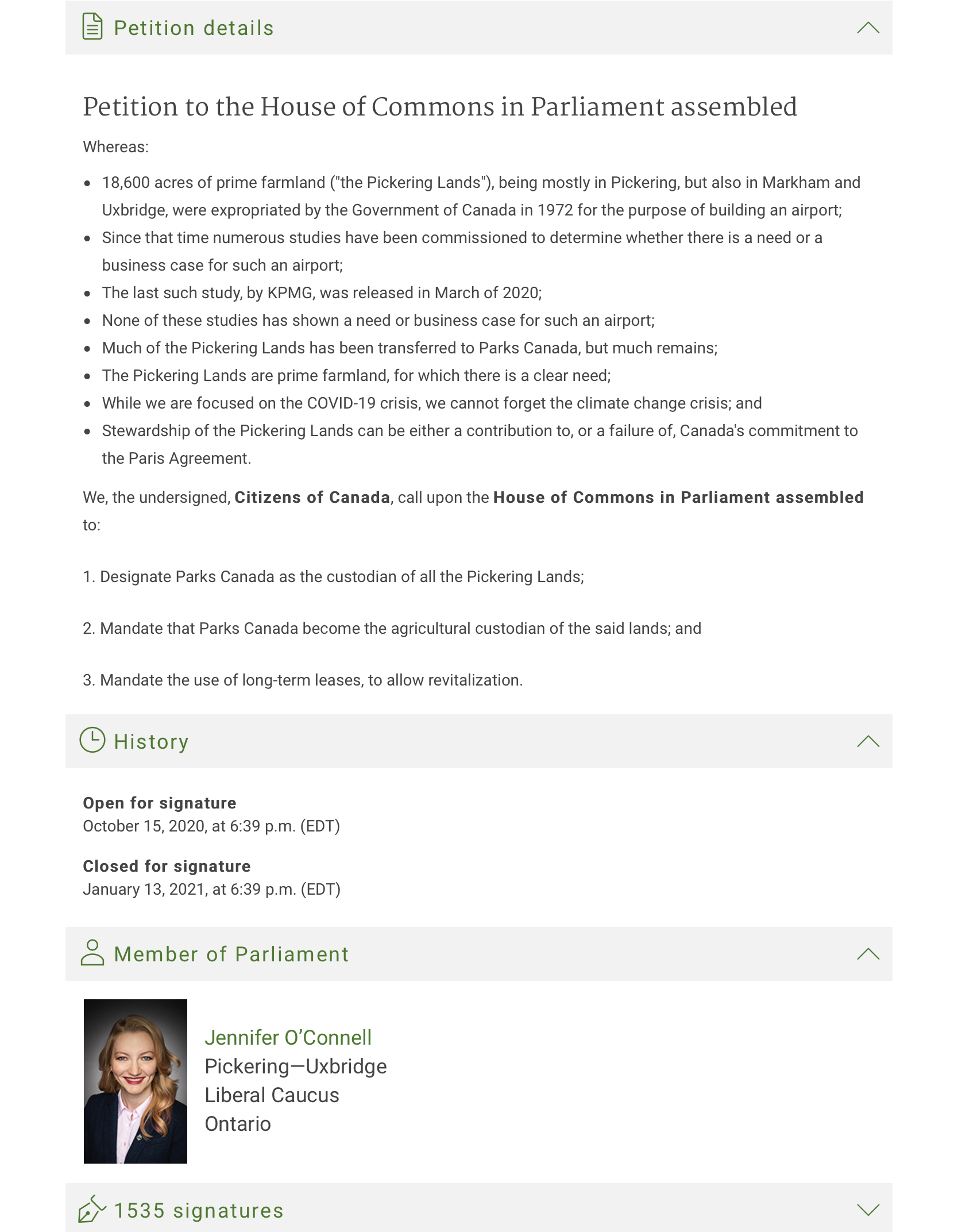 References:
The Anti-Airport E-petition 2907 that failed to get support.
The rules around E-petition in the Canadian House of Commons.
Pickering may need an airport by 2036: KPMG – Durham Post
Petition aims to protect farmland.
Sign the NEW petition! | Land Over Landings
New petition calls on federal government to end any potential plans for Pickering airport | Durham Radio News
Related posts:
Is Parks Canada Being Set Up for a Nasty Surprise? – Friends of Pickering Airport
Who is funding Anti-Airport Politics in Pickering? – Friends of Pickering Airport
They Have Crossed the Line! – Friends of Pickering Airport
Is an MP authorized E-Petition promoting Misinformation to reward supporters? – Friends of Pickering Airport
Misinformation to Stall Airport – Friends of Pickering Airport
Who is Leasing the Pickering Airport Lands? – Friends of Pickering Airport
What is the real goal of a biased Pickering Airport Troll Poll? – Friends of Pickering Airport