By Ted Nickerson, March 10, 2023
This will be my last update from an aviation recovery perspective.
In my first posting on this topic in March 2022, I identified that IATA (1) predicted that North American commercial aviation would reach 94% of the 2019 passenger traffic volume by year-end 2022 and reach 102% by year-end 2023.  In my October 2022 update, I reported on encouraging signs from the USA and Mexico and highlighted the lagging but somewhat encouraging aviation recovery performance in Canada.
So, how did North American passenger aviation do in 2022?
North American air traffic recovered to 90.6 percent of the 2019 passenger performance.
The greatest news comes from Mexico.  Mexico completed 2022 with its best-ever commercial aviation passenger performance.  Mexico's 2022 air traffic (5) was 106.8 million passengers and 105.3 percent of its 2019 performance.  Fully recovery plus significant growth over 2019!
The USA came very close to IATA's 94 percent recovery forecast, ending the year with a total of 852.7 million passengers (Domestics and International) (4) representing 91.9 percent of its 2019 air traffic performance.

Unfortunately, my prediction for Canada's recovery (back to 75 percent of 2019) was pretty accurate.  Canada's 2022 air traffic performance came in at 74.1 percent of its overall 2019 traffic level and ended the year well-short of IATA's 94 percent figure in the last month on a daily basis.
The following chart compares the full year 2019 and 2022 results as well as the 2023 year-to-date CATSA Canada (2) data for passengers going through airport screening per day at Canada's eight major international airports (3).
As can be seen, Canada was making a strong recovery in the February through September period (back to 86 percent).  Then, the recovery plateaued through October and December at approximately 89 percent of the 2019 level.  The 2023-to-date air traffic performance continues in the low-90 percent of the 2019 level and still short of IATA's prediction.  The overall trend is positive but slow.  IATA's 102% recovery for 2023 is still possible.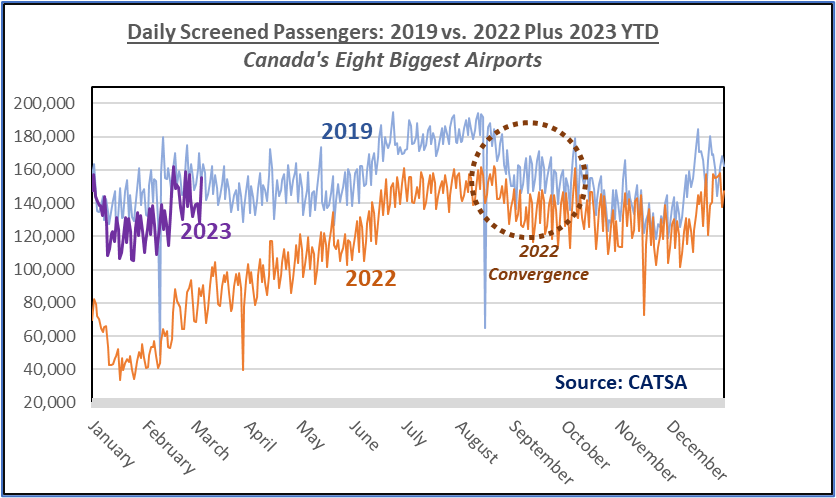 Why has Canada's air traffic recovery stalled and not continued to improve like our North American counterparts, Mexico and the USA?  The difference between the US and Canada is directly related to government action and inaction.
In Canada, extended COVID lockdowns and vaccination reporting enforcement, using a smart phone app called ArriveCan, discouraged passenger travel.  On an industry level, the absence of any meaningful Canadian government support for the aviation industry until more than a year after the start of COVID created the deepest layoffs in the industry's history.
Though the Canada Emergency Wage Subsidy (CEWS) program provided some job protection measures for Canadian airline workers, the sector saw unprecedented layoffs.  Furloughed workers, with hard to replace skills, either shifted industries or have gone abroad (especially to the US) to find employment. In contrast, the US government provided immediate multi-billion-dollar subsidies to America air carriers and airports that enable the retention of skilled workers. These retained skilled workers enabled a fast startup as COVID restrictions lifted in the USA.
The critical shortage of pilots, air traffic controllers, mechanics and ground crews in Canada will take years to replace.  Canada's prosperity, which relies on global trade and the free movement of people and goods, is being negatively impacted.
Toronto Pearson International Airport, which accounts for approximately 31 percent of commercial air passengers and almost 40 percent of air freight nationally, finds itself in a pretty tough position as a consequence of all of this.
Pre-COVID, Toronto Pearson enforced a runway slot system and high landing fees meant to discourage smaller aircraft.  Now, they find themselves forced to restrict air travel at the airport by capping the hourly number of passenger aircraft movements and passengers during the peak March Break and Summer travel periods.
These actions will slow Canada's aviation sector recovery.  Though delayed, it should still recover to the 2019 level in 2023.  We will have to wait to see whether it will reach IATA's 102% North American forecast in 2023.
Canadian aviation will fully recover in 2023.
An encouraging note is that ICAO (6) has predicted that global passenger traffic will see rapid recovery starting in late Q1 2023 and should end 2023 at 103 percent of the 2019 global traffic performance.
Aviation in Canada is resilient.  The COVID pandemic changed the nature of air travel globally, but it will not diminish it.  Global aviation is fast recovering and will double by 2050.
Once recovered and with the return to continuous annual growth, Pickering Airport will still be required generally in the late-2020s, or worst case by the early to mid-2030s timeframe from a commercial passenger perspective.  Business, General and utility aviation are already suffering due to a lack of capacity in the region.  For them, the airport is needed now.
References:
IATA media release #10 "Air Passenger Numbers to Recover in 2024", 1 March 2022
CATSA Data link: Screened passenger data | CATSA | ACSTA (catsa-acsta.gc.ca)
Canada's eight biggest airports are Calgary, Ottawa, Toronto Pearson, Montreal-Trudeau, Halifax, Winnipeg, Edmonton, and Vancouver.
US Department of Transportation, Bureau of Transportation Statistics – Tables 1-24