By Ted Nickerson, October 4, 2022
In the March 2022 posting, I identified that IATA (1) predicted that North American commercial aviation would reach 94% of the 2019 passenger traffic volume by year-end 2022 and reach 102% by year-end 2023.  Further, at that time the USA and Mexico were already near the 2022 forecast but Canada was severely lagging.  That situation has now improved considerably.
As reported regularly in the media, Canada's path to aviation recovery in 2022 has been torturous. This includes world record setting delays at Pearson airport, staffing shortages and countless complaints from disrupted travelers.  Thankfully, full recovery is in sight.  For all of North America, 2023 aviation traffic should be exactly as IATA forecasted!
Let's be honest though. For Canada, the 2022 recovery has been painful.  Canadian aviation will not reach 94% of the 2019 total commercial passenger traffic by year-end 2022.
The following chart compares the 2019 and 2022 year-to-date CATSA Canada (2) data for passengers going through airport screening per day at Canada's eight major international airports (3).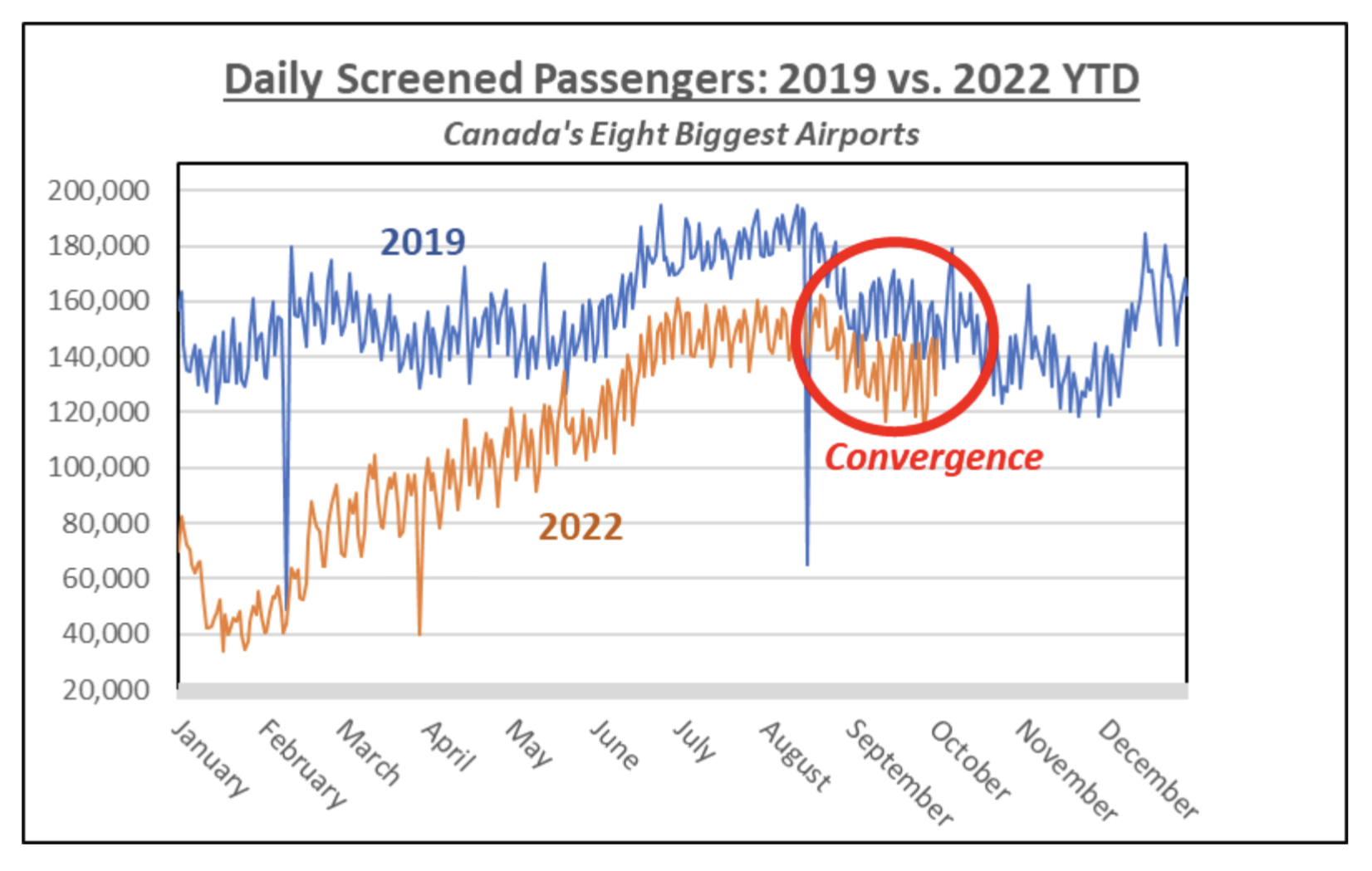 The difference in passenger traffic in Q1, 2022 through Q3, 2022 is obvious. The shortfall in traffic can be directly tied to retention of the COVID protocols established by the Federal Government, and short staffing both by airlines, airport authorities and the Transport Canada security screening forces.  Through this period, some of Canada's premier airports were considered as the worst in the world for on-time performance.  Traffic at these eight airports were suppressed by COVID protocols including the mandatory use of the ArriveCan app. For many, Canadian airports were to be avoided if at all possible.  Yet, traffic in the July through September period grew substantially in Canada.
On October 1, 2022, all federal COVID protocols for our airports were revoked.  Unfortunately, full year passenger traffic will not reach the IATA 94% forecast.  The remaining one quarter of 2022, a period of historically lower air travel, does not provide enough time to compensate for the low passenger traffic in the previous three quarters.
The best that can be expected is that the eight Canadian major international airports will end 2022 at around 75% of the 2019 total commercial passenger traffic performance.
Now for the good news – CONVERGENCE!  As you can see from the chart, daily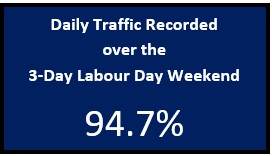 passenger traffic has increased rapidly, from the mid-30% range in January 2022, to 83% in July, 88% in August and 86% in September.  On a daily basis, that's within striking distance of IATA 94% value, and very close to the historical Q4 air traffic trend line.
Canadian aviation will start 2023 at or close to the 2019 year-end traffic level and, importantly, will be well positioned to reach IATA's 102% North American forecast in 2023.
Canadian commercial aviation will fully recover in 2023!
As noted in previous postings, aviation in Canada is resilient.  The COVID pandemic changed the nature of air travel globally, but it will not diminish it.
With the demonstrated recovery and the return to continuous annual growth, Pickering Airport will still be required in the late-2020s, or worst case by the early to mid-2030s timeframe.
My next update will be in Q1, 2023 once full-year 2022 information is available.
References:
IATA media release #10 "Air Passenger Numbers to Recover in 2024", 1 March 2022
CATSA Data link: Screened passenger data | CATSA | ACSTA (catsa-acsta.gc.ca)
Canada's eight biggest airports are Calgary, Ottawa, Toronto Pearson, Montreal-Trudeau, Halifax, Winnipeg, Edmonton and Vancouver.