Right now the Canadian economy is crashing under the fear and anxiety created by a global pandemic. Under today's conditions, communal vehicles – buses, trains and planes – are breeding grounds for the virus. Until today, the number one method of communal travel between provinces and internationally was air travel. Post-event, how will the pandemic change the use of air travel, and what can be done to restart our economy? A recent report released by KPMG on the need for a new airport in Toronto has part of the answer. Past events can help us predict the future.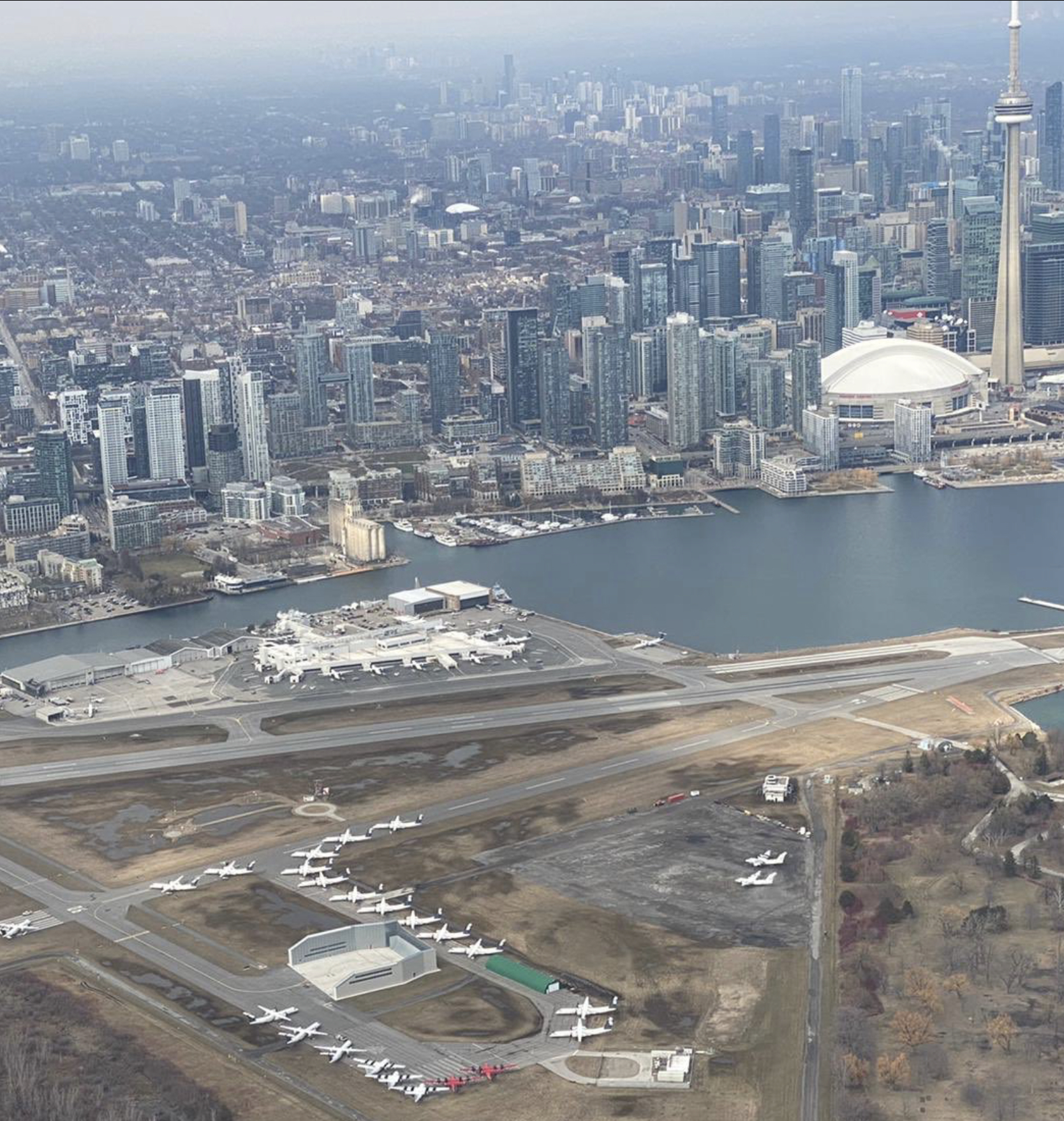 Once the virus is beaten, its impact will have a long term effect on aviation and the psychology of the traveling public. As with other major interruptions to air travel and the global economy, the pandemic will push change. To understand these changes all we need to do is look to past events. From the hijacking sprees of the 1970s, to 9/11, SARS (Severe Acute Respiratory Syndrome), and the 2008 global financial meltdown, each event was deemed a potential aviation apocalypse.
Yet after each of these events aviation grew back stronger and more resilient. The acceleration from shutdown to full speed ahead increased with each event.
Back in 1973, all you needed to get onto a plane was a ticket and to make it to the gate before the door closed. No ID was required and you could take anything on board, such as a handgun, a parachute and a bottle of whiskey. The first two enabled a man calling himself D.B. Cooper to hijack a Boeing 727 in 1971, and get away with $200,000. It also encouraged political fringe groups to turn hijacking into a media art form.
After fierce opposition by several big airlines, mandatory passenger and hand luggage screening was introduced. Enhanced checked luggage screening was mandated after the terrorist attack on a Pam Am flight in 1988.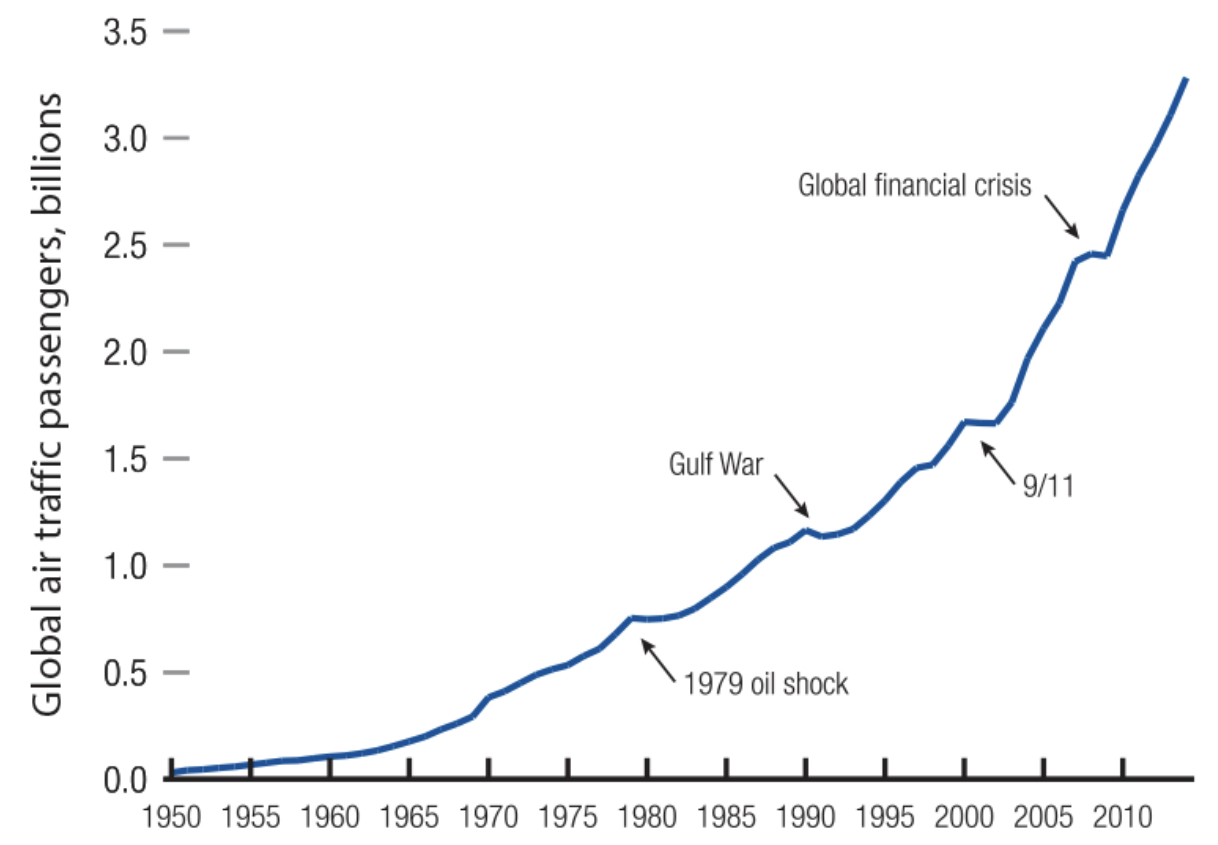 After 9/11, passenger screening became even tighter and a primary consideration to flight safety. Improvements such as full body scans, reinforced cockpit doors and restrictions on liquids and sharp objects,improved safety and restored consumer confidence. Today's pandemic is seeing enhanced screening of passengers for illness, a new focus on staff health and upgraded cleaning/ disinfection standards. 
Thermal imaging, health screening questionnaires and an observational health review are expected to become a permanent component of passenger screening. Under consideration are changes to passenger cabins, including clear plastic screens between seat rows, upgraded airflow scrubbing, the use of easy-to-disinfect cabin materials and removal of the reclining seat function.
The move away from large behemoths, such as the Airbus 380, was already under way before the pandemic, and is now expected to accelerate. Recent events will also accelerate the adoption of a point-to-point airport system vs. today's dominant mega–hub style airports. All of these changes will have profound implications for capacity-constrained airports like Toronto Pearson, London Heathrow and Chicago's O'Hare. In Toronto, once the crisis is past, can Pearson airport expand its gate, runway and ramp capacity to handle the many new smaller narrow body jets that this change implies? What about improving other airport safety standards such as the long–delayed improvements to runway over–runs?
Other changes will include the increased importance of smaller dedicated business jets and cargo aviation. Both are now playing animportant role in moving mission-critical people and supplies. With improved fuel efficiency and new technology, utility aviation, and the airports supporting them, will see dramatic growth. The draconian restrictions caused by capacity constraints on smaller jets at Toronto Pearson needs to be resolved, or practical capacity for them provided elsewhere in the airport network.
Having locally-accessible aviation infrastructure has never been more important. The seizure of medical supplies enroute to Northern Italy, by officials in the Czech Republic, is a reminder of the need for local control over that aviation infrastructure. The closure of the US-Canadian border during the pandemic should put to rest the idea that nearby Buffalo airport can be counted as part of the Toronto region's aviation infrastructure.
The 9/11 and global financial meltdown events show us that once the virus is beaten, aviation will come roaring back to an accelerated growth level. New procedures, equipment and infrastructure need be in place to support Canada's global economic competitiveness. To attract travelers back to efficient communal air travel, our airport system needs to be improved with new infrastructure. Lining up for hours just to clear security in a crowded terminal just became socially unacceptable. Being squeezed into an airliner, then forced to idle for an hour before take-off or an hour after landing due to congestion also needs to become unacceptable. Today, Toronto Pearson has a dozen chokepoints including deicing pads, passenger gates and all-weather runway capacity at peak travel times. 
In addition to the serious and devastating health impacts of this pandemic, the Canadian economy is being gutted. People are losing jobs, businesses are closing, some permanently. The Canadian economy will require a massive stimulus to recover. According to a recently-released report from KPMG, Toronto will need a new airport, the only question is when. Where has already been decided — in Pickering in Eastern Toronto. Why not build this airport now?
The multi-billion dollar Pickering Airport project will stimulate the economy and create thousands of construction jobs. Once operational, the new airport will create up to 50,000 full-time jobs and add $13 billion in activity to the Canadian economy. Completed long before the pandemic started, the original plan, suggested in the KPMG report, was to break ground in 2026 with a utility airport opening the end of 2028. A passenger terminal would follow as needed, possibly as early as 2031. But the report has a flaw – it suggests a "Build Pickering Last" strategy, mandated for political rather than economic reasons.
The "Build Pickering Last" strategy is intended to enable Toronto Pearson and Billy Bishop airports to maximize the value of their airports before Pickering is built. This encourages congestion at these airports and places the business and residents of eastern Toronto at an economic and social development disadvantage. Another political tactic used in the past to battle over regional resources has been the suggestion that the distant airports of Hamilton and Waterloo can play a bigger role in servicing the eastern Toronto economy. Unfortunately, the tyranny of geography removes the possibility of a viable business plan to expand either airport to service this market. At the same time the business case laid out in the KPMG report (i.e. to build local accessible aviation in Pickering) is undeniable.
It is time for the political games to end. If past events are any indication, air travel is expected to rebound and roar past previous levels by 2023. Airports are the heart of the global economy and will be major economic drivers during the Canada's economic recovery. For instance, Pearson Airport created 6% of Ontario's GDP in 2018.  Accelerating the plans to build Pickering Airport would be a show of confidence in the future and a prudent investment. The 491-page KPMG report contains more than 100 pages of financial analysis showing a minimum 8% IRR ( Internal   Rate of Return is a metric used in capital budgeting to estimate the profitabiliy of potential investments) and a break-even within 5 years.
Breaking ground now, rather than waiting another year or two, would be a vote of confidence in the future. It would stimulate the economy and provide an important piece of economic infrastructure that experts agree will be needed in the future and will take 10-12 years to fully build out. 
Building the airport now will also break a long-standing "Build Pickering Last" tradition of political discrimination against Durham Region. The new airport in Pickering will become the heart of the eastern Toronto region's economy. Pickering Airport's time has finally arrived!