By Mark Brooks
Canada's largest trading partner, the United States of America, is shifting gears, and is set to come roaring out of the pandemic.  Every adult in the US (that wants one) will have a vaccine by May 1st, and the CDC has given the OK for the fully vaccinated to travel without the needed to quarantine. Not so in Canada but hopes are high that we will be only a few months behind. Currently the CDC is advising against travel to Canada. But when we can reopen for business, Canada will have a unique problem that no other G20 nation has, a threadbare air navigation system and a near bankrupt airline industry.
Canada's prospects for economic prosperity in the post-pandemic global economy will depend on syncing policy and initiatives with America and our other international trading partners. But a broken aviation industry is more than just a glitch that will work itself out, it could hurt Canada for decades to come. While isolating from the world by nailing the door to air travel shut may or may not have been an effective defense against the pandemic, it has damaged Canada's gateway to the world.  Unlike other nations, Canadas government has so far shown no intentions of paying for those damages.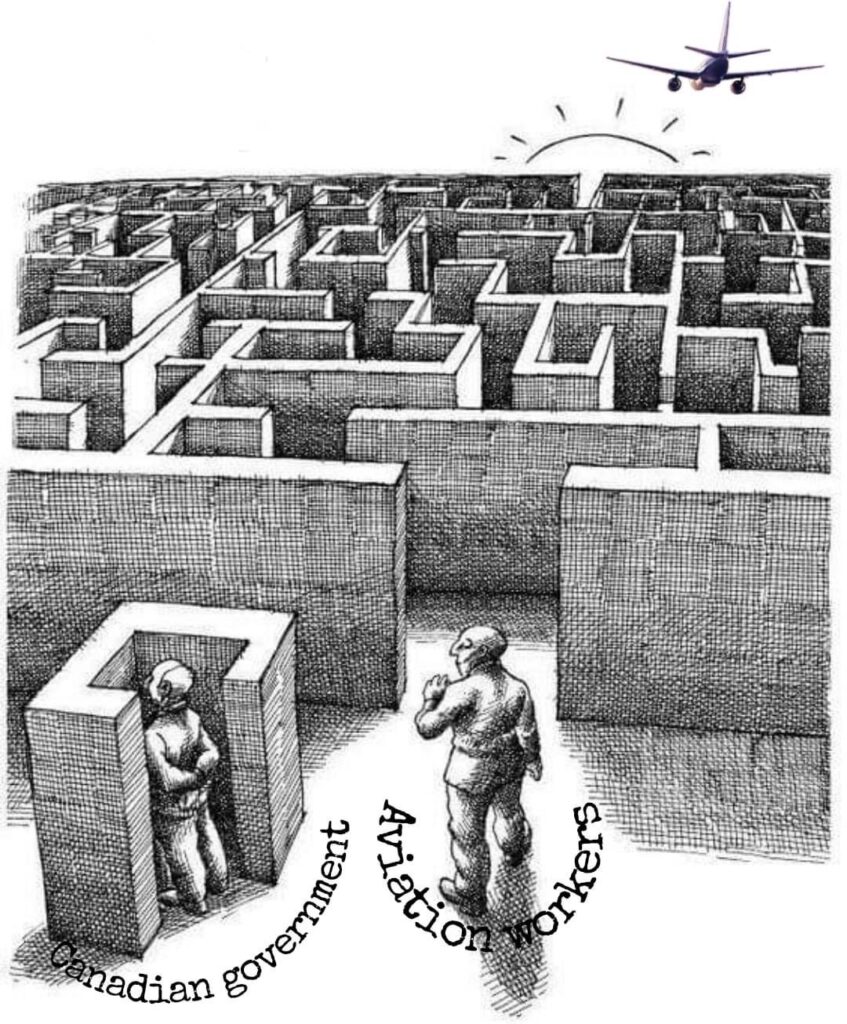 How much repair work will be needed to reopened air travel safely and efficiently once the pandemic is beaten?  Can Canadas once world class aviation industry repair itself in a reasonable time? While the policy wonks ponder how to adjust our investment and business policies in the coming months, one issue needs to be front and center, reopening aviation and preparing for the rapid growth in air travel to come.
How bad is it?  Our aviation system has been under serious financial pressure during the year-long shutdown, and unlike every other major western nation, it has received no government support.  Growing safety, efficiency and access issues are the result of this lack of this support.
Nav Canada, the not-for-profit corporation that is in charge of Canadas air navigation system, has laid-off hundreds of hard to replace air traffic control specialist and many have left the profession never to return. Nav Canada is struggling just to handle the surge in training, utility and general aviation aircraft traffic that is the first signs of recovery.  It is currently restricting flight training operations in and around Toronto due to staff shortages. Insiders have suggested that Nav Canada must be refinanced and restructured to enable the safe handling of the traffic expected in the years to come.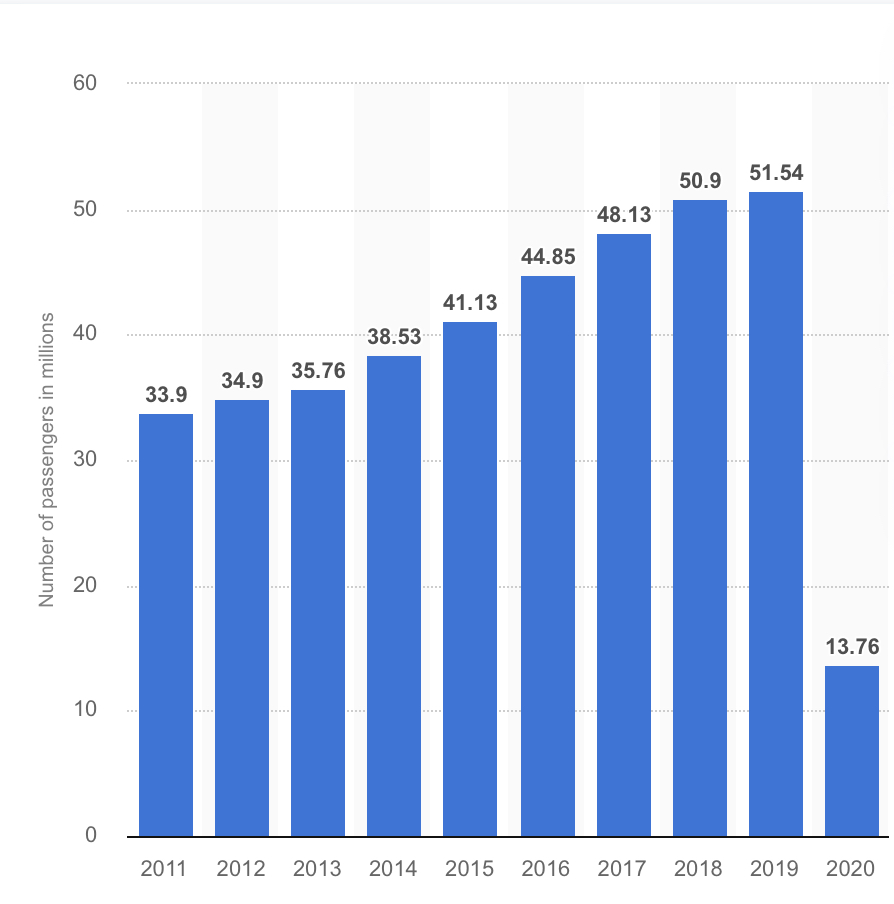 Many of Canadas airlines are on life support with modern equipment mothballed, pilots and other specialist laid off and in need of months of retraining.  Safely and efficiently reopening the infrastructure of air travel in Canada may take a year or more.  A glimpse of the challenges ahead can be seen south of the border as the America aviation industry begins to spool back up. Despite tens of billions provided to US based airlines by its government to keep skills current and aircraft at the ready, the restart is not going smoothly. Over the Easter weekend Delta Airlines was forced to cancel 82 flights due to crew shortages.
Canadian pilots and specialists are already being offered employment south of the border. Who will blame them if they move south to seek better opportunities? Without government help Canadian aviation has had to go into a deeper state of shutdown than the American and European industries.  Without financial support, it is anyone's guess as to how long the industry will take to bootstrap itself back up to a reasonable operations tempo.
What Canadian Aviation needs in the short term is a reopening plan and government loan guarantees.  Closing our border with the US while the Trump administration mishandled the pandemic was the right thing to do last year, but times have changed. A new US president has a firm grip and a good plan to reopen the economy. Canada needs a plan to reopen its borders including transparent targets on when it is safe to fly. Nav Canada and our airlines need the ability to retain and retrain key specialist. We must begin the process of preparing to reopen now before our pilots and controllers and other specialized staff are gone for good.
Once reopened, how will our aviation industry handle the rush of Canadians that have been cut off from family and friends or economic opportunity inside and outside the country? Without a plan this will start badly.  Will it be a free for all, a new wild west of air travel? Will safety be compromised?
New policies from a new American president are aimed at restoring the United States manufacturing might and reversing decades of job losses in the manufacturing sector. They are setting ambitions goals of shifting away from the old industrial economy to an advanced clean technology and energy economy of the future.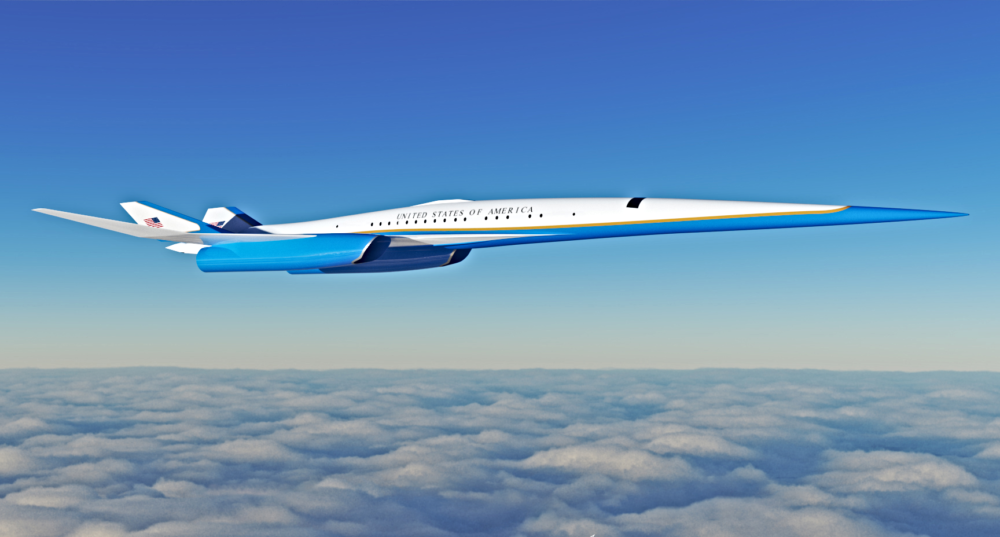 New net zero carbon aviation technology is expected to play a key role in re-engineering critical supply chains at the heart of domestic and global trade. America is providing incentives to its powerful technology sectors to dominate innovation in areas like electric vehicles, batteries, hydrogen fuel, 5G networks, semiconductors, and clean energy.
Just the opposite appears to be happening in Canada. In 2017 the Trudeau government abolished the Strategic Aerospace and Defense Initiative (ISAD) that helped to fund aviation R&D projects with low-cost loans. This initiative has existing in some form since 1959 and is credited with creating Canadas cluster of aerospace companies that employ 215,000 and adds 25 billion to the country's GDP.
Even private aircraft owners have been singled out.  A new 10% luxury tax is expected in the coming federal budget on any new aircraft with a value greater than $100,000. This will reduce the sales of new more fuel-efficient aircraft models such as those currently being built by Diamond Aircraft in London Ontario.
Another important issue is that Canadas new carbon tax is not synchronized with the US. The new tax is creating a financial incentive for aircraft and trucks to go out of the way to fill up with cheaper fuel in the American boarder cities such as Buffalo. This is creating an import parity issue that, over the long term, could increase rather than decrease carbon emissions.  This will only worsen as the Canadian carbon tax increases to $170 per tonne in 2030.
Canada is uniquely qualified to help fulfil America's new green deal agenda and reap the economic rewards but only if we sync our efforts and our re-opening schedules with theirs. Canada enjoys preferential access to the U.S. market under our free trade agreement. We are deeply integrated in North American industrial supply chains. The spill-over effect on Canadas economy from Americas new industrial investments could be tremendous but only if we are ready to take advantage of the opportunity and our industry can keep pace.   If we do not rebuild, modernize, and expand our aviation capacity in sync with America, Canada could get left in the dust. Just as important, we will be unable to efficiently contribute our knowledge and expertise to solving the current climate crisis or to help people and nations less fortunate than our own.
Canada needs a new long term national plan to increase its airport capacity and open its arms to the opportunities that new low-cost net zero carbon aviation technology will create.
Unfortunately, the state of aviation globally has created the opening for the Deep Green, anti-globalization, anti-growth movements to demand serious curtailment if not the shutting down aviation everywhere.  We even see this locally in Toronto, where under the guise of the climate crisis, some groups seek to advance their own agendas to their continued benefit. Political and economic profiteering from the misery created by the pandemic needs to be called out.
The far left Flygskam ( flight shaming) movement sees the capitalist global economy as evil and the pandemic as an opportunity to redistribute wealth. To quote the stay-grounded.org website :
"Aviation is a central part of globalized hyper-mobile capitalism "
This statement is 100% correct. Some claim aviation won't ever recover from its deep pandemic state. What these ideologues chose to ignore or deny is the critical role aviation plays in the economy.  By value, a third of all global trade and services moves by air.
Aviation in Canada is resilient. Over the last year front line aviation workers have provided essential services while making many personal sacrifices to keep Canada safe.  Over the last 70 years, aviation in Canada has demonstrated continuous growth.  When major negative events have transpired, the data shows aviation has quickly recovered.  Canadian aviation will recover from the COVID pandemic and return to robust growth.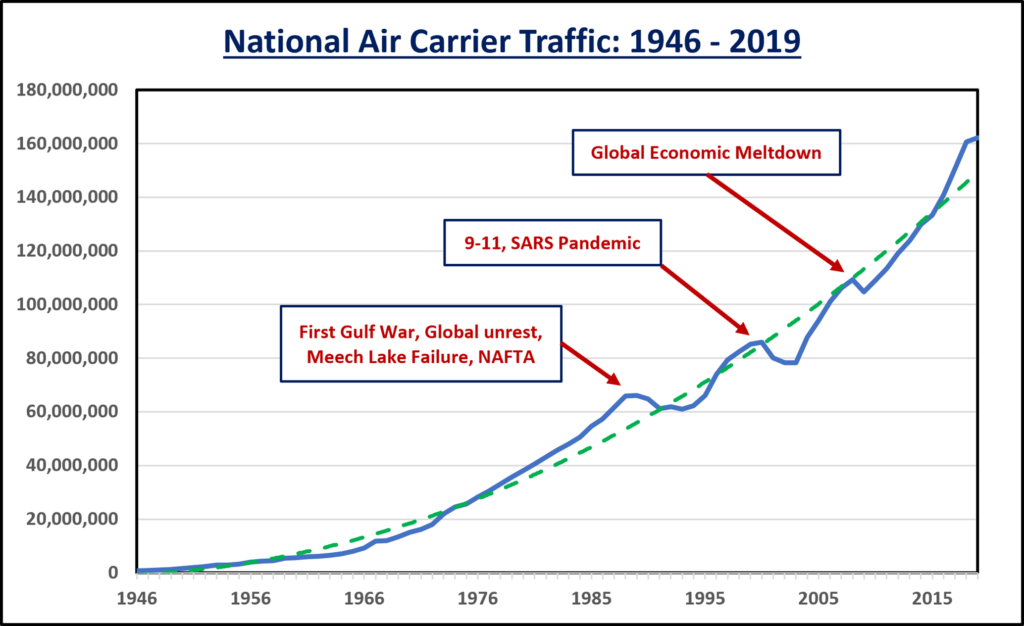 On the climate change front, the global aviation industry has plans, fully endorsed by the United Nations IPCC, as well as groundbreaking initiatives that will dramatically reduce aviation GHG emissions by 2050.
Aviation is the lynch pin of an efficiency modern global economy and unless we prepare for the dramatic growth ahead, Canada is in danger of becoming an economic backwater. Lack of aviation capacity and failure to adopt new aviation technology will hurt everything from Canadas long term prosperity to being able to meet our Paris climate targets.
This is why every major western nation except Canada has pumped billions into preserving aviation infrastructure, airlines and retaining the skills of specialized workers such as air traffic controllers and airline pilots.  It is time for Canadas government to get the message and act to support Canadian aviation.
References:
Passenger refunds part of Ottawa's financial relief deal with Air Canada: sources | CBC News
CDC Gives Green Light For Vaccinated Americans To Travel – Simple Flying
Warning for travellers: Avoid Canada due to 'very high' risk of COVID-19, CDC urges (yahoo.com)
Covid: Tests to be offered twice-weekly to all in England – BBC News
Southwest Set To Recall Almost 3,000 Cabin Crew From Voluntary Leave – Simple Flying
Travel during Covid: As flight demand recovers, airlines revive pilot hiring (cnbc.com)
Canadian ATC Union Warns of Safety Risks from Tower Closures | Flying (flyingmag.com)
Southwest Airlines orders 255 Boeing 737 MAX aircraft (aerotime.aero)
Biden Boosts Supersonic Travel – AVweb
Related Posts:
Pickering Airport in a Post-Pandemic Toronto – Friends of Pickering Airport
Aviation Will Come Roaring Back! – Friends of Pickering Airport
Toronto's Pandemic Recovery Will Require New Airport Infrastructure – Friends of Pickering Airport
Supporting Aviation Key to Canada's Pandemic Recovery – Friends of Pickering Airport