In 2016 a team from the international accounting organization KPMG (consisting of a project manager, three subject matter experts, and an evaluation services consultant) started work on a report that will chart the future of growth and economic prosperity in the eastern Toronto region. The KPMG report is expected to be more than just an update of the aviation sector analysis for southern Ontario. The primary goal of this analysis was to produce a comprehensive report that summarizes when, and in what form, Pickering Airport will be built.
The original Transport Canada contract was funded to August 2017. However, the report funded by this contract has not been released. The Minister of Transport, Marc Garneau, as late as spring 2019, has stated that it is not complete. His critics suggest it is being withheld for political reasons.
Although this analysis has not been released, its scope of work is revealing, and covers three areas:
Supply and demand (update of an earlier 2011 Aviation Needs Assessment)
Type and role of airports in the southern Ontario regional airport system
Revenue-generating potential and economic impact of a new Pickering airport
The analysis builds on the relevant elements of the earlier 2011 needs study by forecasting the timing of, and economic triggers for, the development of a new airport on the Pickering Lands. In addition, it will assess options for other economic development that could take place in conjunction with the airport.
Overall, the aim of this analysis is a comprehensive report that summarizes when, and in what form, Pickering Airport should be built. Specifically:
(1) when an airport will be required;
(2) what type of airport will be needed (commercial reliever, mixed general aviation, etc.) and how it will fit into the existing Southern Ontario regional airports system;
(3) when will the airport be financially viable and provide sufficient economic benefits to warrant the investment?
The KPMG team was assisted in this assessment by Transport Canada's own experts.
With a federal election now called for October 21, 2019, the report is not expected to be released until after a new government is formed. Once released, it will form and define the requirements for the next step, an Olympic-sized RFP (request for proposal) calling for bids on the development of the new airport.
Although the report has not been released, we do have some insight into Southern Ontario's expected aviation capacity squeeze over next decade. Below is a graph of the estimated passenger demand and supply compiled from the current masterplans from the major airports serving Southern Ontario, i.e. Pearson, Hamilton, Waterloo and Billy Bishop Airports. It includes the capacity added by Pickering airport in two phases. Without the new Pickering airport opening in 2029, demand is expected to exceed supply, no later than 2036 and possibly as early as 2026 if the GTAA public funding requests for its union west project go unanswered.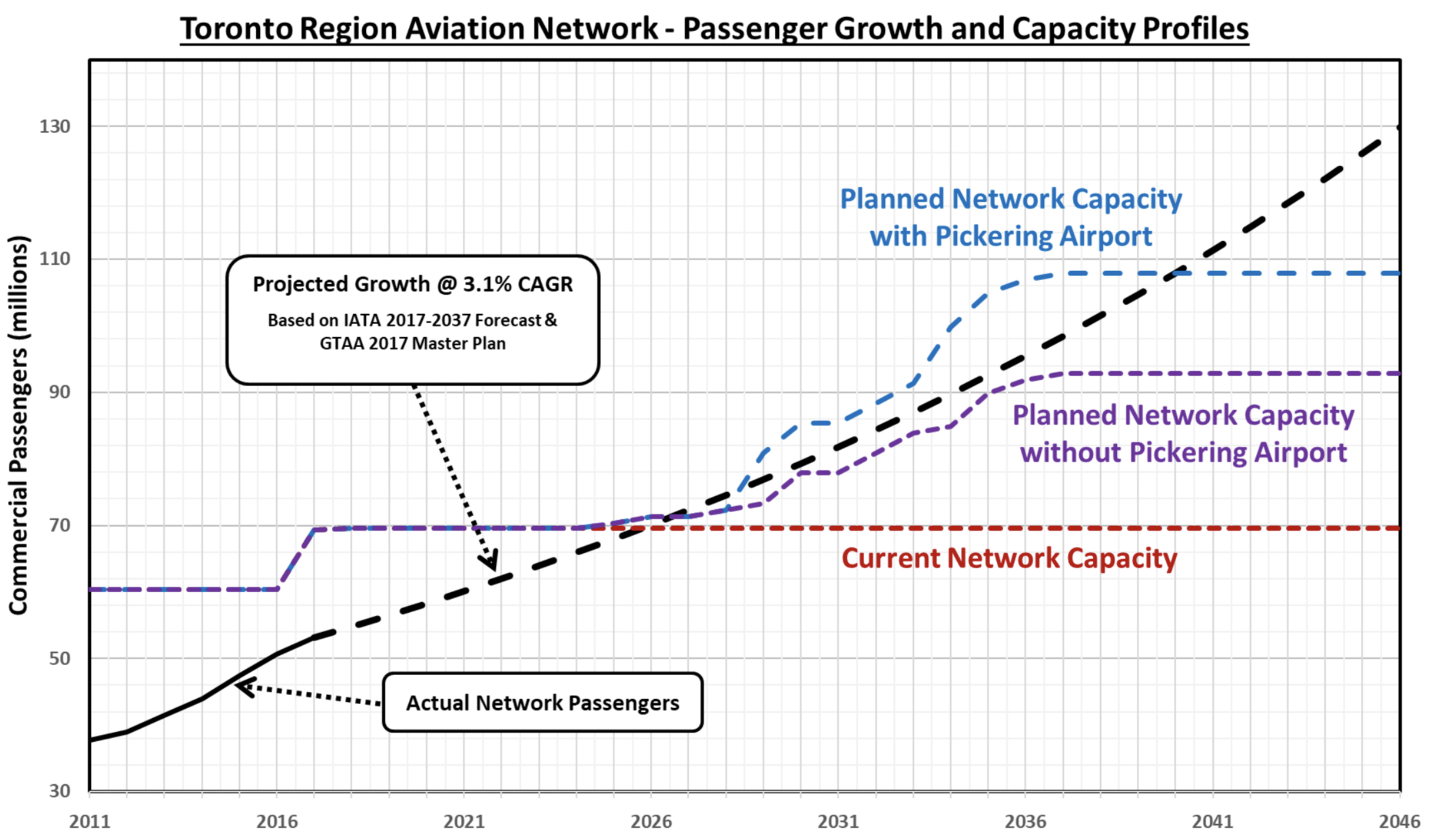 Without Pickering Airport, Toronto can expect constrained economic growth, excess greenhouse gas emissions from congestion (both airside and on the road), and soaring travel costs.
Will the next federal government decide to leap into action to save Toronto from its growing pains with an Olympic-sized RFP? Will it simply step out of the way and let private investors build the new airport? Or will it see this as an opportunity to attempt to force growth away from Toronto to other cities, Montreal perhaps?  Whoever wins the upcoming federal election will set the tone for how and when the KPMG report is released.