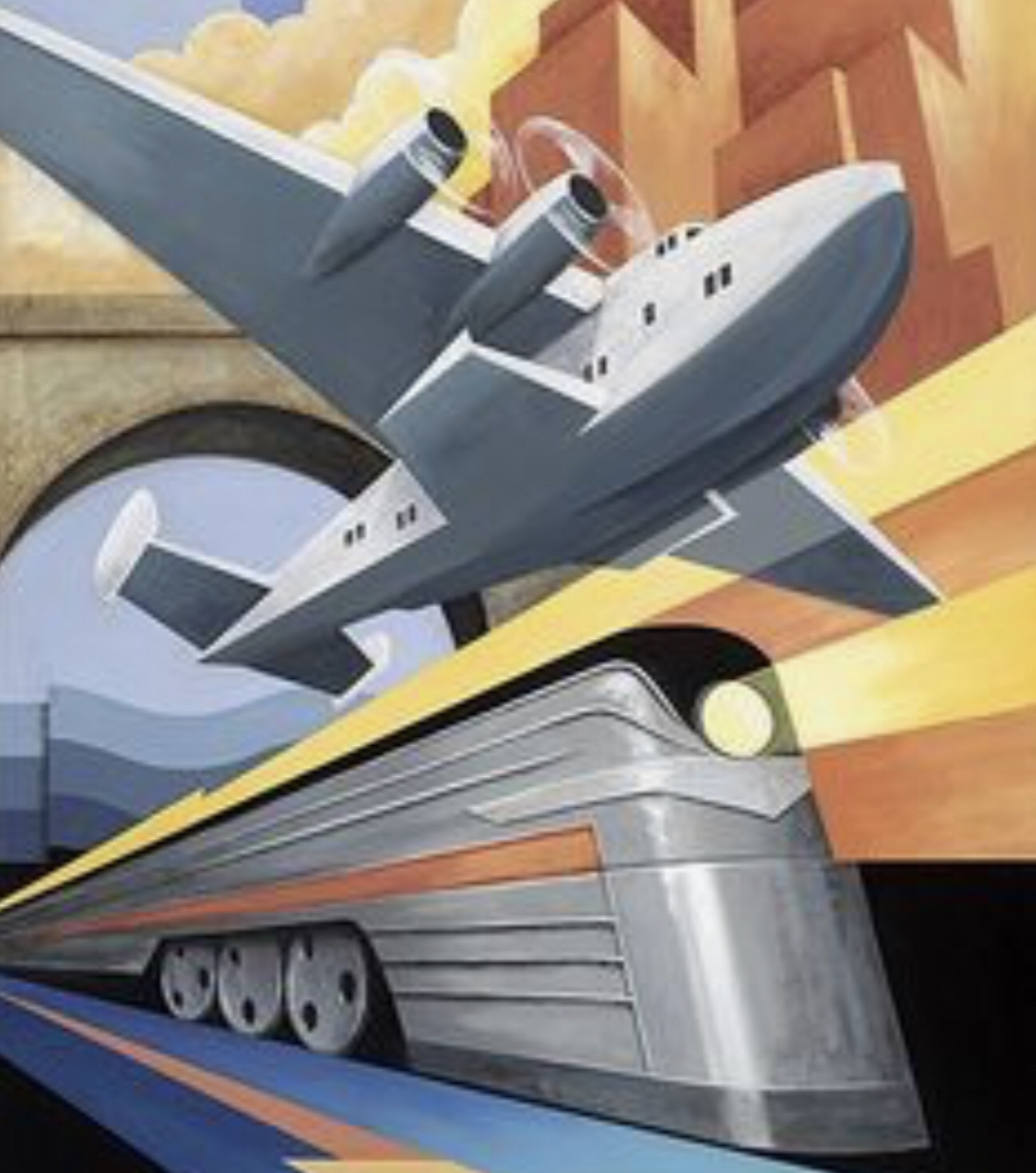 In the 19th century, passenger rail displaced the horse and buggy and steamship as the preferred mode of intercity travel in Canada. In the 20th century the automobile and air travel displaced passenger rail service. Airports are now an integral part of the bonds that form the Canadian nation. But will continuing advances in automotive and aviation efficiency, such as electric hybrid technology in cars and soon regional jets spell the end of passenger rail service in Canada or can they coexist?
The idea that aviation and rail are rivals is not new but resurfaced when the now-cancelled high-speed rail ( HSR) project was proposed by the previous Ontario provincial government. The first phase of that project was to deliver HSR only from Toronto to Waterloo-London but would eventually stretch from Windsor to Toronto.  Depending on how it is implemented, it could disrupt  thousands of acres of Class I farmland and dozens of communities.   75% funded by tax dollars, critics have expressed doubts that it could ever break even, requiring constant government operational subsidies.   HSR supporters claimed that it could have a smaller per passenger carbon footprint than aviation. Given HSRs disruptive land footprint, the need for snow removal, track maintenance, and the new hybrid electric regional aviation technology on the horizon, this is debatable.
A more realistic VIA rail proposal of a new high-frequency rail ( HFR) service has also been pitched by some as reducing the demand for air travel.  The Pickering Airport lands development just east of Toronto and VIA rail's proposed Toronto-Ottawa-Montreal-Quebec City (The Corridor) high-frequency rail (HFR) are often portrayed as rivals. Proponents of HFR point out that many passengers now flying from Toronto to Montreal and Quebec City on Air Canada, Westjet, and Porter Airlines could be enticed to take a train to these destinations. This would then free up extra capacity at Toronto Pearson and reduce the pressure to build a new airport in Pickering. In 2017 an estimated 6.4 million passengers (less than 14% of Toronto airline passengers) flew between Toronto and Ottawa,  Montreal and Quebec City.
The challenge for VIA is that it currently takes 5 hours to travel by rail from Toronto to Montreal versus 1 hour 15 minutes by Air. VIA Rail passenger performance is severely challenged in the Toronto to Montreal Corridor. This is because it is running passenger rail service on lines owned by CN and CP where freight service takes priority. This results in poor and sometimes unpredictable on-time performance (OTP), discouraging riders and constraining growth. VIAs current passenger service requires a 10 cent per passenger-kilometre federal government subsidy to stay afloat.  To reduce this issue VIA has proposed that HFR should be on a dedicated passenger rail line. This could reduce travel times by a quarter, saving more than a hour on a trip to Montreal.
As congestion builds at Toronto Pearson, flight times are expected to increase. Pearson's on-time performance is already starting to degrade. The airport is now ranked 475th in the world for on time performance reaching a dismal overall average of 69%. Pearson's congestion and increasing time spent getting to and from the airport and passing through security, is seen as a boost for passenger rail. This is the strange logic of rivalry.
Although the Pickering Airport and HFR projects' timelines coincide, they should not be seen as rivals. While it is true that a new rail service delays the need for new aviation infrastructure, it would only be by couple of years. Consider that passengers volumes at Pearson grew by 2.4 million in 2018. Even a complete shift of all "corridor" passengers to rail would only delay Pearson from reaching capacity by a couple of years.  A more efficient approach would be for HFR rail to be connected to the new Airport in Pickering.  Both projects can complement and support each other if properly coordinated.  
Other Major commercial airports prefer that at least 20% to 40% of travellers arrive at and depart from the airport via public transit.  In addition a direct rail service between the airport and a  downtown city Centre ( Toronto in Pickering Airports case) is seen as essential to reducing road congestion, greenhouse gas emissions   and speeding the movements of travellers.
Consider that VIA Rail proposes to implement HFR passenger rail service on the CP Havelock Subdivision right-of-way between Toronto and Ottawa, and then onto Montreal and Quebec City from there. This is the rail line that goes right past the Pickering Airport site.  The new service would be on rail dedicated to passenger service first, enabling faster train service than it can currently achieve on other tracks.  
VIA Rail's HFR project forecasts annual passenger ridership to grow by 5.8 million,  from 4.1 million in 2018 to 9.9 million by 2030. Linking this rail project to the new airport could bump this number by millions of passengers arriving from, or departing to destination across North America and around the world. Connecting and coordinating the two projects would be a boost to VIAs plan and would reduce the risk of its project.
The timelines for the VIA Rail HFR project and development of Pickering Airport coincide.  VIA Rails HFR timeline is 2017-2030, with the final feasibility study and environment assessment taking place over the next two years. According to the 2010 aviation capacity study, Pickering Airport needs to enter service in 2028-2030 to meet capacity demand. Specifically, the VIA Rail project plan means that their new HFR service on the CP Havelock line would be in operations before Pickering Airport enters commercial passenger service.
So how can the VIA HFR and Pickering Airport projects coordinate? VIA Rail would need to add a Pickering Airport station to its plan.  This extra expense would be easily paid back to VIA  Rail by extra rail passengers revenue. For starters, it would win ridership between Toronto and Pickering Airport proportionate to the Toronto Pearson UP Express. VIA Rails HFR would capture 1.2 million to 1.4 million trips annually.  These rail riders would be in addition to their current plan of 5.8 million new passengers.  Coordinating with, rather than being a rival to Pickering Airport would "de-risk" the project, an essential requirement of the project sponsor – the Federal Government.
The benefit of a rail link to Pickering Airport is a public transit link to Downtown Toronto. It  could see at least 10% of passengers arriving/departing the airport via rail transit. A rail station at the New Pickering Airport is a win for both projects. Both VIA rail and the soon the be created Pickering Airport Authority need to make it an important part of their planning.
references:
Local Farmers organize against HSR
Previous Ontario Government HSR plan